Kitchens are, without a doubt, the heart of our homes so it's important to pay attention to every single detail and keep them beautiful and comfortable. Don't forget that this is the space where you and your family gather to share a meal and talk after a long day. That's why you need to create an area where you'll enjoy cooking and be able to get things done quickly so that you can relax with your family and have that glass of wine before going to bed. If you're thinking of renovating your kitchen, then you'll need to know what the designers have in store for us, but don't just go and buy the latest decorating magazines and start demolishing everything. Instead, be patient and think your decisions through.
Kitchen Trends That Will Be Huge in 2018
Two-toned cabinets
Whether you decide to be bold and try out bright colors, or you decide to go with black and white, you won't make a mistake. Mixing and matching different shades and incorporating them in your cabinets is what designers are recommending nowadays. You can repaint your cabinets or just buy wallpaper that can be applied to wood and use them to create a modern look without any trouble. For the bravest ones, designers suggest opting for dark blue kitchen furniture, and you can even paint your entire kitchen in black. Just be careful – in order to successfully pull this off, you need to have plenty of  natural light in your kitchen. Without that, you'll end up with a dark room and no light to lift up the entire look.
Golden accents
Rose gold, copper and brass are the official colors for small details and these give you a chance to start small and then work your way up towards bigger changes. These finishes will instantly add a touch of luxury to your design. These hues will transform your kitchen from an ordinary culinary space into a fully fashionable resort worthy of a real chef. Enhance your small kitchen with a flash of gold or go big and paint your kitchen cabinets in golden tones. Either way, you can't go wrong because this trend has been declared the most upscale one for the upcoming year.
Kitchen island improvements
Kitchen islands are always in style and they're quite practical as well. Not only have they been a key element in practically every kitchen, but they are now being updated with a horizontal bar that offers you additional space for entertaining your guests. You can even add an elegant matte frame with the wooden counter top to point out this station as a classy multi-functional centerpiece of your cooking/eating area.
Return of the marble
Marble is the safest option for your countertops because it's so aesthetically pleasing. Many have thought that this trend has already become totally obsolete, but it's now back in every part of home design, especially the kitchen. If you want to freshen up your cooking area, add marble on top of your dining table and create a sophisticated look that's extremely easy to clean. The maintenance of marble tops can't be easier because they don't require any additional care.
The best trend, however, is to be subtle in your wishes to include everything you read in magazines. Don't try to create something that won't be in accordance with your home design and style. Sometimes, we succeed more when we try less, so be sure to make a plan and follow it. Who knows, maybe you'll even create a trend yourself!
Dark steel appliances
The time of white appliances is way behind us, and the darker tones have taken over the stainless-steel trend that has been ruling over the past couple of years. Besides black, dark blue and grey are another alternative. To soften the dark hues and make your living space more enjoyable, opt for bright accessories – a big vase with fresh flowers, your favorite cookbooks, a light round rug in the center of the kitchen or pictures of your most delicious dishes on the walls will make all the difference.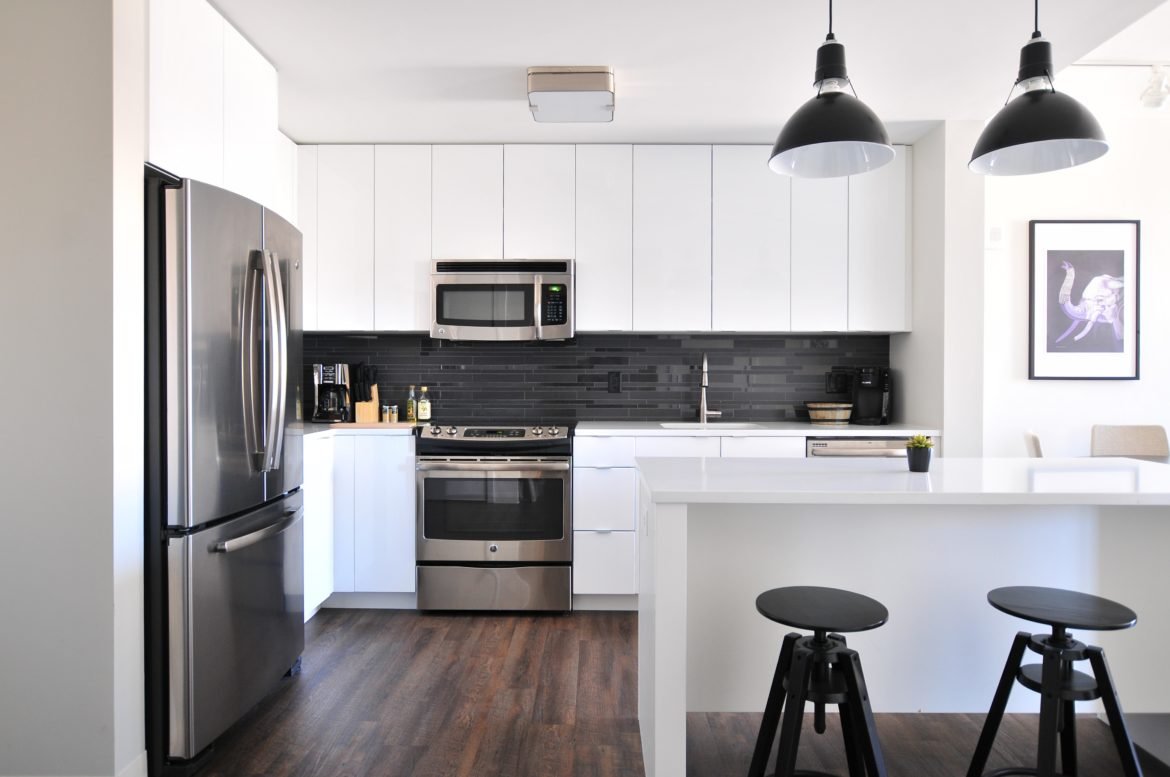 ---
Author: EMMA B. JOYCE
Emma is blogger based in Australia. She is a true home decor and DIY fanatic. Emma is interested in music and also is a big reading enthusiast. Finding new designs and patterns is her daily task. She got hooked on home accessories and decorations during her traveling and now cannot stop searching for new inspiration.