9 Ways To Get Him Interested
---
There's something that is spoken of far too often nowadays in the wedding bells department – "my fiance doesn't care about the wedding planning." No offense, but that's like your fiance saying to you, "my fiance doesn't care about building this dream car with me." While building a car and planning a wedding are widely two different things – they both require a lot of money, time put forth, and contain the feud of limitless choices and options, mistakes and poor judgement, important decisions to make, and the stress of making sure it runs perfectly. And building a car might be his lifelong dream, and the perfect wedding being yours. Am I right?
Now that I've just compared a wedding to a car – let's talk about why your fiance isn't wanting to be involved. There are far too many reasons – let's be real. First off: what percentage of the male population actually has a vision of their wedding day before even getting engaged? Probably less than 1%, if you consider as you think back through your relationship the number of times your fiance has ever brought up the words 'my wedding'. It's just not a man's world. The decorations, the cake, the dress, the guest list, the timeline, the flowers, all of it.
*This post contains affiliate links. If you purchase through these links, I will receive a teeny weeny commission!*
But let me get something out in the open:
 According to my husband, there are 4 types of guys, as far as the lack of involvement in wedding planning
. These are his words exactly:
The "Laissez Faire" – this is basically the guy who would marry you in a landfill and officiated by a clown, because he knows he is marrying you and that's all that matters.
The "Beat-Down" – this is the guy who attempts to help, voices his opinions when asked of, and continually gets shot down because it's against what his fiance truly wants. In the end, this guy realizes in the big scheme of things his help is not worth starting a fight over and caves into letting you get what you want without confrontation.
The "Too Cool For School" – this is the guy who says he doesn't care (when asked of his opinion), then later down the road becomes butt-hurt when the decision made isn't what he hoped.
The "Space Cadet" – this is the guy who doesn't understand the wedding hype. The reasoning to spend $500 on a 2-tier cake from a local bakery versus a $150, 4-tier cake from Publix. This is the 'cake is cake' guy, pushed to the side in the never-ending losing battle of wedding non-sense. So, he avoids voicing an opinion to save himself from starting an argument.
Lo and behold, while he may not 'care for' the wedding planning as much as you, there are still ways to get him interested and keep him excited for the big day. The important factor to remember is that this day is about the both of you. Not just you, and not just your fiance.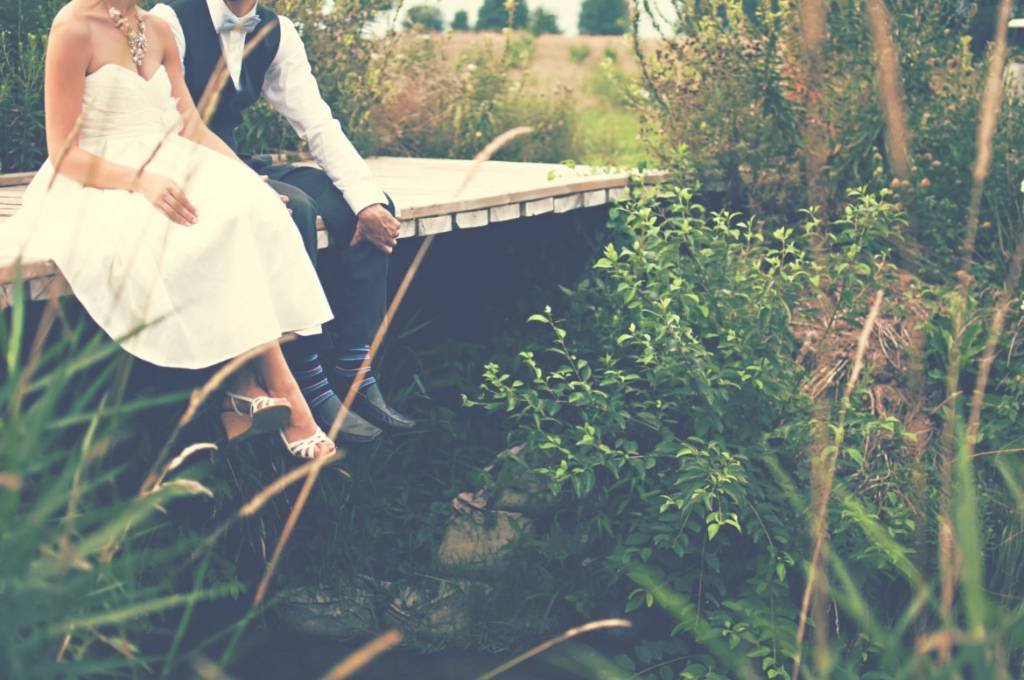 "My Fiance Doesn't Care About The Wedding…"
9 Ways To Get Him Interested In The Wedding Planning
---
Give him a break
I mean, c'mon, he just went through one of the few most exaggerating periods in his life! Finding the right ring, battling sales people, buying it, hiding it from you for months while contemplating the proposal, finding the right time to propose, planning the proposal, making sure the proposal is perfect, and in the end hoping you even say 'YES'.
Now, whether you're the couple where it was easily and mutually decided to get engaged (without much surprise), the ring and proposal being a total surprise, or the engagement being completely – for lack of better words – forced, it's still all equally a big deal in his mind. It's a huge milestone, with any sliver of doubt or not.
So whether you were described above, and your fiance doesn't seem to give a rat's a** about the wedding planning, take a step back for a while.
Don't hammer him every 5 seconds to get his act together. He had his act together for a long amount of time before he bent down on one knee. It's safe to say he earned some breathing room. And let's be honest, guys are difficult to rush in certain circumstances, especially against their will and desire. Granted, you can't force your fiance to want to do anything, but he should on his own.
If you're in the midst of still setting a date, hold out for a while. My fiance (at the time) and I vowed against wedding talk until after the Holidays. So 3 total months of no wedding talk. Sometimes taking in a stretch of time to enjoy just being engaged can do wonders on your relationship.
Communicate and empathize
Sometimes we over-analyze what is meant by 'he doesn't care about the wedding'. Turning it into, 'he doesn't care about me, the wedding, helping and getting married at all'. Whatever the case, it's important to empathize. This timely, feminine, womanly-constructed, stressing time bomb just aren't many guys' cups of tea. Just like my car reference in the intro. They don't mean to intentionally disappoint you, or upset you, most guys just figure this is an ordeal "we" handle ourselves.
He may seem like he doesn't care, but in reality he just doesn't mind you taking control without asking for his permission or opinion.  After all, shouldn't this be a dream reality for some? Try to take that into account. It's every girl's dream to plan her wedding – having her prince who just simply says, "Do whatever you want, babe – I just want you happy. If you're happy, I'm happy!" Because that's literally what they're saying – without actually saying it.
But we can't see it that way all the time – I got you. We want them to show any small indicator that this big day means something. Whether that's inputting an idea for the color scheme, cake flavor, flower choice or just simply responding to a few emails or phone calls.
So it's also crucial to communicate this importance to your fiance. Sometimes that is all it is for men to understand that they're needed – ask for help. Ask for him to include himself, ask that he give an opinion, and let him know how much it means to have his take on the wedding planning. And also being mindful of the result – that in doing so, you will also need to take into consideration of your fiance's input when it is given.
If your fiance resembles the type guy like "Laissez Faire", "Too Cool For School" or "Space Cadet", it's vital that you sit them down and discuss your concerns and needs as far as decision-making in the wedding planning. As much as that is important to get across, it's also on you to be more compromising in terms of your fiance's concerns, desires, choices and opinions. And if your fiance tends to come across as the "Beat Down", ultimately the problem here is compromise on your end. Who is going to want to help in the planning if their ideas constantly get thrown to the side? It is – after all – their day, too.
Compromise (without tricking him)
So you really like navy and coral, and also pink and gold, but ultimately you're leaning towards navy and coral. But you think, "I'll ask my fiance – see what he thinks." In turn, he picks the pink and gold, while suggesting to add the navy in with the pink and gold. Instead, you immediately detest by eliminating his chosen option and proceed with navy and coral. What was the point of asking again?
Nonetheless, that example is what "Laissez Faire" and "Beat Down" type guys are afraid of. That none of their opinions truly matter. And so that's what they think – "What is the point of my help?"
Lead by example. Compromise is within everything – now, and in your future after the big day. It's not always going to be your way, and not always his way.
Keep it very simple – give him options
Slow down. Sometimes it's what you are asking that is too much. Don't show your fiance 1,000 different flower options and colors, to then go, "Okay, now which ones do you like?" That's not asking for help – that's asking for suicide. That is where you're likely to get that dreaded response, "I don't care", just to please you and avoid stirring the pot by getting shot down or saying the wrong answer. Instead, show him two options you like most – where as either one your fiance chooses will satisfy you. This technically means: pick the one he chooses. It shows his opinion truly matters to you.
Simple options – meaning, very black and white. Roses, or lilies? Chocolate, or vanilla? Avoid the gray areas.
I remember asking my husband, "Chocolate, vanilla or marble cake?" And he yells, "Chocolate….and Key Lime Pie!", since we were having a destination, beach wedding down in the Florida Keys. I honestly couldn't have agreed more.
Add in things you know he will enjoy
If he has mentioned something – anything – or has a particular interest/hobby able to be incorporated in the wedding. Do it! If your fiance enjoys golf, ride off at the end of your reception in a golf cart. If he really loves basketball, mention having a basketball groom cake. If fishing and hunting is his life, have his boutonniere be a fish hook or made from a bullet shell.
You know what I'm getting at here. Whether it's silly, tacky or completely stupid – pull it off! Your wedding is about your lives coming together, and although weddings are supposed to be romantic and fairy tale-like – it's also supposed to be fun, memorable and meaningful for the both of you.
For our wedding cake, I had purchased a cake topper that resembles my husband and I. Where he is a fisherman, and I am a mermaid. It was a cute little addition to both our likes, it spoke volumes for him since it was a total surprise – yet it wasn't tacky in the least.
Don't make things complicated
Guys tend to veer off the main road in the line of helping out when wedding planning starts to get out of hand. Added stress, or stress you create – whether from something going wrong, not going your way, or being indecisive – can easily push your fiance away from wanting to be another added trigger to that stress. It's only natural.
You either want to get married outside, the ballroom or church wedding, or not. Not that things are always that simple – based on dates available and time frame – but there are always ways around it, such as not having a Saturday wedding or your ceremony/reception in two different places.
Stress less over the small stuff. Because guess what – I can guarantee you it's not only something your guests won't notice, but your fiance won't either. Sometimes we expect things to go so smoothly and flawlessly, that when things shake up – who the first person that is usually the target for your frustrations? Exactly.
And as for budget – have one. Stick to it. And don't go behind his back about it – if you and your fiance are paying for the wedding yourselves. Many times the complication of getting your fiance to help along the lines of planning has a lot to do with the budget. He knows your expectations by now, but may be reluctant in showing an interest in planning simply because of the things he knows he really can't afford. Like those flowers he knows you really want – they're $100 a piece – but he also knows he can't throw down at that price. In this case, sit down with your fiance and talk out the budget. Don't make it an ordeal by ignoring his concerns and refusing to compromise.
Refrain from becoming the Bridezilla
Again, not everything will go exactly – to the "T" – your way. Plenty of people, including your fiance, are going to ignite this unknown and uncontrollable fire within you during this time. Whether your FMIL insists on wearing white, the forecast calls for rain during your ceremony, or there's a few difficult guests you're dealing with. Are those petty problems really going to ruin your magical day between you and the love of your life?
You may lose your marbles at times, since everything is in a time crunch closer to the big day. But when that wedding week finally comes, it's the time you need to just say, "Whatever happens, happens." I think for many it's important to step back and take a look at the bigger picture here – you're getting married, not just for a wedding, but to join lives with your fiance as one new family.
You will still be married, you will say "I do", have your first kiss as a married couple, and those will watch in awe of a monumental moment in your lives. Isn't that what matters? Because I'm pretty sure that's all that matters to your fiance when he got down on one knee.
All in all, how you handle yourself during this experience will show exponentially as far as how comfortable your fiance feels in lending a helping hand. If it's already a stressful event, he's less likely. Avoid being the Bridezilla you see on TV.
Actually listen and take in to his ideas and opinions
I think in the moments of pure joy, bliss and whirlwind of thoughts in wedding planning – we ignore the fact our fiances may have been chiming in all along as far as their vision and desires for the big day. We don't actually take the time to listen when they speak.
And of course we don't mean that personally – as we flip through our wedding calendar spread sheet, sort through brochures and vouchers in our handy-dandy wedding binder, and obsess through magazines over what dress we will try on next. But his lack of help may have started right from the beginning, happening under our noses. But we fail to notice as we are also nose-deep in our own thoughts.
Sit down with future hubby – and just talk, openly – judgement free. Get a feel for what he envisions (stupid, boyish or not) and don't immediately bash it to the ground. He is a boy, still, so having the Star Wars themed wedding may be all he talks about. Yet, there are still cute, elegant ways to incorporate it – if you try.
If he mentions twenty times how he thinks it would be awesome to roast a pig at the wedding – maybe insinuate having pulled pork BBQ as the buffet. Compromise on ideas – including your own when he raises question. And bounce off one another's input.
Make it about you and him, not just the wedding
Weddings have come so far beyond the bare minimum in expectations. It used to be church weddings, ballroom/country club receptions with a simple catered meal and a band. There were no elaborate centerpieces, four hour long receptions, or massive decked out cakes and venues. Everything was generally very bland and white.
Millennials have completely twisted and skewed every aspect of weddings possible. Elopements, vegas weddings, 100k mansion weddings, fire-breather dancers, glittery and glitzy 15 foot tall centerpieces, not one but two wedding dresses, fog machines, DJs, hot air balloons, 24 carrot gold wedding cakes, celebrity singer appearances, spitting llamas and riding in on elephants.
Weddings were supposed to celebrate the joining of two, very in love, people – not being masked completely over by how much was spent in celebrating it. Yet, people want what they want. But it's important to never forget that aspect, that getting married is about you and your fiance. Nobody else and nothing else.
Make sure your fiance knows that – not just by words, but showing it. There is time for wedding talk, while there should also be time without any aspect of it. Leave the wedding in your binder, and your computer folders or pinterest boards at home. Go on dates, spending quality time together (wedding-talk free), and show your fiance your new lives together matter beyond the wedding.
---
It can be difficult to get your fiance on board with the help in wedding planning.. Though it isn't very common, part of it has a lot to do with communication and compromise on both sides. While it is acceptable that women tend to grow up having a vision of their dream wedding day – a lot of that solely depends on having both SOs sharing the same dream and compassion for one's happiness in their joining lives together.