Date nights are always fun, but there's only so many date ideas on the list after dark – and even less for those couples that love spending time outdoors.
Not every date needs to involve spending money, either, which is great because it tests each other's expectations out of the relationship. If it's a romance turning into a long-term relationship, couples need other options besides movies, bars, dinner and staying in watching 'Netflix'. If the relationship is going somewhere, couples should prepare to 'go places'.
For the couples that enjoy nature and the outdoors – you must get pretty creative. Here I have come up with date ideas that have both romance and outdoor satisfaction.
*This post contains affiliate links. If you purchase through these links, I will receive a teeny weeny commission!*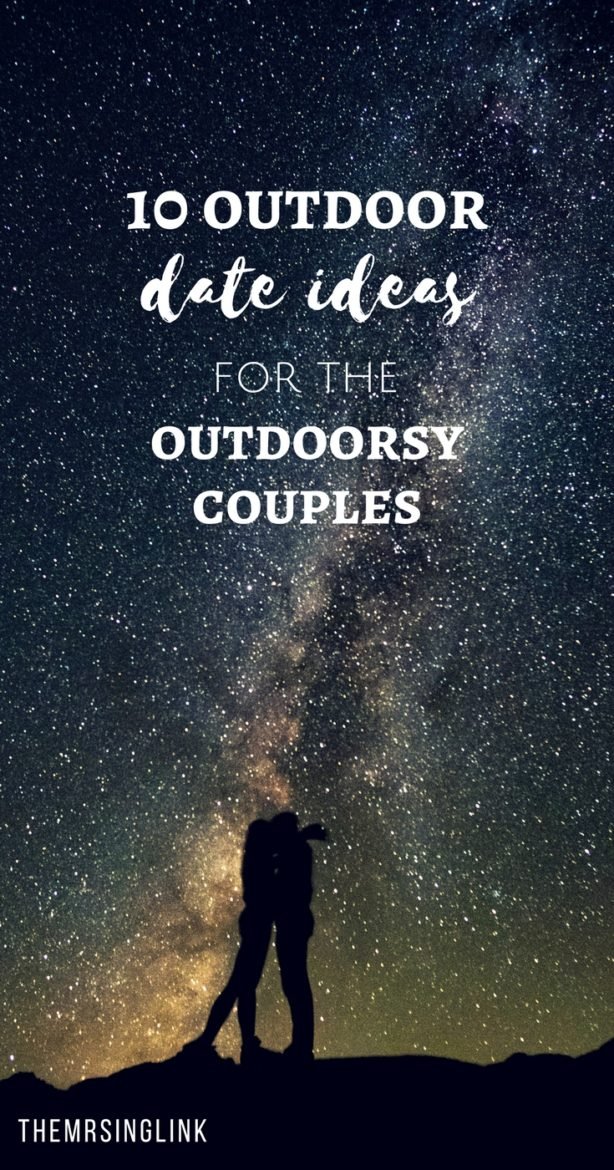 10 outdoor date ideas
to keep your relationship adventurous
1. Camp out under the stars
Whether its in the backyard, or a camping permitted state park, it's a different and fun way of enclosing yourselves under the night sky with a campfire. This date can scream romance when you add a bottle of wine or champagne, and chocolate covered strawberries, or s'mores to the festivities. So, bring a portable radio, a camping tent and spend a quiet night with nothing but nature and each other, and slow dance under the clear night sky.
2. Take your pooch(es) to the dog beach/dog park
If your'e close to the beaches, look up any that are pet friendly, or find local dog parks in your area. It's a fun way to let loose and still spend time with each other and your furry friends. Bring some pub subs and you've just made yourselves a dog picnic.
3. Go kayaking, paddle boarding or canoeing
Whether its on a lake, river or the ocean, bring out your adventurous side together. It's a great outdoor activity for exercise as well as enjoying spending time together in nature. My husband and I recently purchased kayaks – it's something we both love to do – and they have made such a positive impact on our time together. You can find single kayaks, or they have double-seated kayaks, and they can be easily transported from any vehicle.
4. Go on a nature hiking trail
There are many wooded hiking trails to find, anywhere. State parks are another choice of hiking trails. Not only are you getting exercise together, but you get to enjoy the beauty of nature through a serene nature trail. So, pack some snacks and water and go take a walk!
5. Go to the zoo
Every couple should feel like a child sometimes, so what better way than feeling childish at a zoo! If you are not close to any animal encounters, then look up any aquariums or wildlife rescues you are allowed to take tours of in your area. And if you're down to zero of those options, visit a local animal shelter and walk some shelter dogs together – plus its for a feel good cause!
6. Visit your local springs
If you have any natural springs in your area, they are a great way to cool off and enjoy a day in the water. Go snorkeling, fishing and tubing down while enjoying the springs notorious wildlife. So grab some snorkeling gear, take a GoPro and capture the fun together in crystal clear waters together.
7. Zip-lining
There are many places to do this, since now a lot of zip-lining attractions are man-made, and don't need foliage to have them. It's a fun and exhilarating way to enjoy each other's company yet feel adventurous together.
8. Grill out by the pool
Whether you have your own pool, or a community pool – use it and make a day of it with a grill out and cocktails! If you don't have a pool, be silly and go get a few water guns, sprinklers or blow up kiddie pool. Invite another couple over and enjoy water balloon corn hole or a water gun war.
9. Horseback riding
This date spells romance! Take a horseback ride along the beach, on a trail, or up a mountain side. This quality time allows the both of you to engage in each other in a different perspective – whether you ride together on one horse or separate.
10. Go fruit picking
Strawberries, blueberries, blackberries, apples, or oranges. Go pick your own fruits together. Throughout the year there are different fruits available for picking your own. Or go to a vineyard and sample some wine and tour the grape vineyards. It's a great way to get close and enjoy delicious eats!
Connect with me on Twitter, Instagram & Facebook so you don't miss the latest blog updates!