Connect with me on Twitter, Instagram & Facebook so you don't miss the latest blog updates!
My husband and I planned this trip to Blue Ridge on a whim, only a few months in advanced. Little did we know, when the time came, we would have to cut that trip from 6 days to 4 because of hurricane Irma. Luckily we were only a state away, and an 8 hour drive from home.
We made the decision to leave early in order to prep our home in Orlando. And in the end, my husband was called in to work through the storm.
Even though we had only two full days, they were still packed with adventures to share with you. I was pleasantly surprised by how much there is to see and do all within that short amount of time, and I'm going to prove it to you!
I'm obsessed with A-frames – so of course we searched high and low for an A-frame cabin in the mountains. Best part was – our two dogs came with us, as well. We were a short drive from both downtown Blue Ridge and Blairsville for dining and shopping.
two adventure-packed days –
white water rafting
in blue ridge, georgia
If I'm honest, we really went into this trip with no plan. We did have a few state parks we wanted to hike, and had reserved white water rafting of the Natahala. But for an originally planned 6-day trip, that's not a whole lot on the agenda. Instead it was like a long weekend (Friday – Monday) trip – travel days included.
The day we arrived, a long 10-hour drive later (due to frequent stops for our pups), we pulled up the steep gravel drive to this beaut. I mean, can it get any better? It was fixed with two bedrooms, a wrap-around porch and a hot tub. I was smitten over this roomy A-frame.
It was dinnertime when we unloaded and got the dogs acquainted and adjusted, so we decided to keep it an easy night and simply grab dinner and relax on the back porch with a drink.
Downtown Blue Ridge
Downtown Blue Ridge was only a 15 minute drive from our cabin. This small, charming area had streets lined with shops, art galleries, wine bars, restaurants and a train in it's epicenter you can take for scenic tours of the Blue Ridge mountains. If it wasn't for the torrential downpour, we would have walked around the area. If you're anywhere within 30 minutes of downtown, I highly recommend taking the time to visit!
We chose the Southern Charm restaurant – some real, good southern comfort food was in order. The restaurant was that of a small, white house – it was also pretty early for dinner so we were in and out in less than an hour. Nonetheless, everything was delicious. My husband had the country fried steak – which was my first time trying – and I had the chicken pot pie.
Vogel State Park
Bright and early that next morning, after a long night of rain, we headed to Vogel State Park. From research, there were two waterfalls to hike to around this state park that were less than a mile in length. We figured this would be the ideal state park to bring the dogs with us this time around.
The park was absolutely beautiful. The Blue Ridge mountains surrounded a large lake. It was pretty eerie since the fog had not yet lifted and we were the only ones in the park almost the entire time. But it made it that much more spectacular for pictures. And our dogs loved the hike to the falls and around the lake.
Helton Creek Falls
The short drive to the second falls – a narrow, windy gravel road – is well worth it. Helton Creek Falls is a short hike and technically has two different areas to view the falls. Be sure to see both viewing areas if you go – and bring your camera!
Later that afternoon, just minutes from our cabin, we visited the Odom Winery. Choose from multiple different wines to taste for just $1. All the wines are produced right on the property, and are inspired with unique flavors. Shari was amazing, incredibly knowledgeable and friendly – if you go, ask for her!
It was a great end to our first full day – sitting back and enjoying a glass overlooking the vineyard. And we even left with an extra bottle of Earl's Reserve – our personal favorite!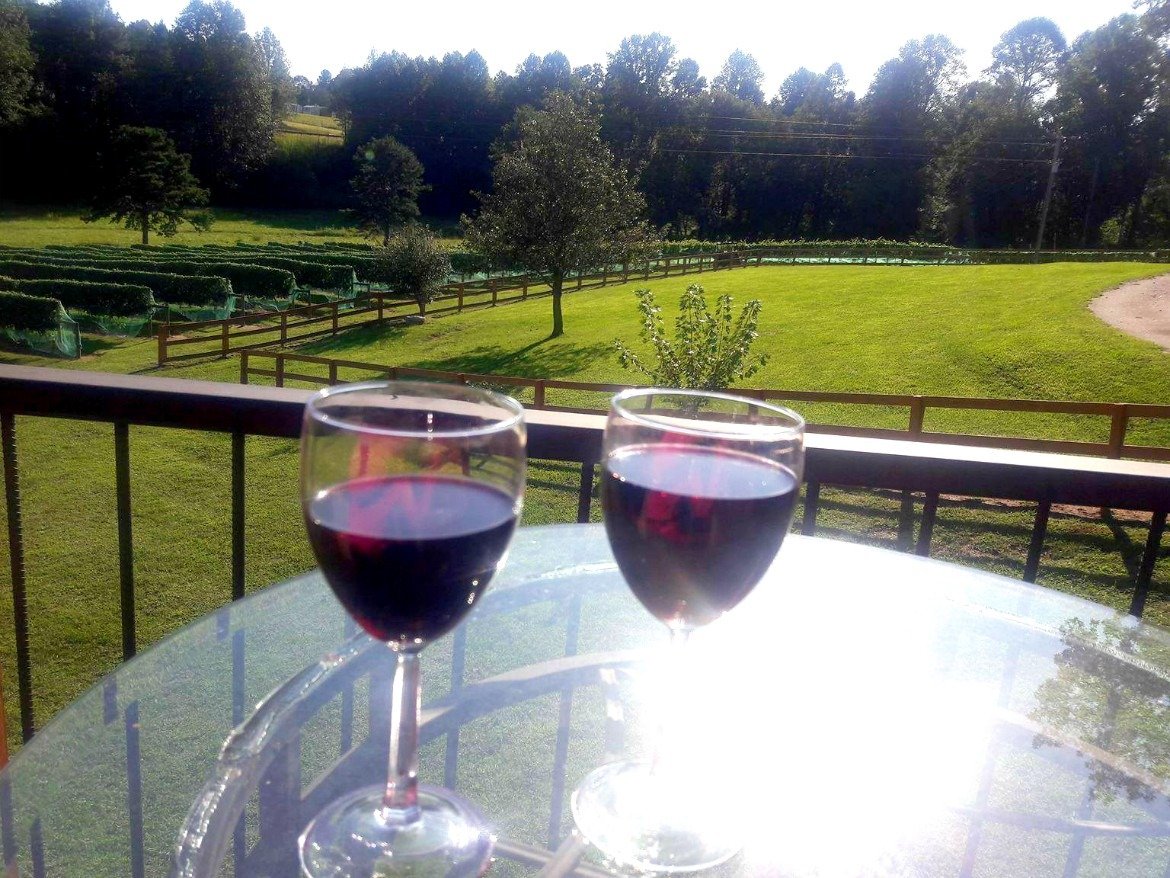 The Nantahala River
Our second, and unwillingly last day, was reserved for white water rafting the Nantahala River. We drove an hour to Bryson City, North Carolina. I had been white water rafting when I was 11, yet this was my husband's first time. Luckily it was a class 2, with a class 3 rapid at the end.
The trip was a two hour excursion down river, and we decided to ride in a two-person raft rather than with a guide. Our tour consisted of only 3 groups, including the tour guide – which made the experience even more fun with it not being crowded on the river. If you can't tell from the professional pictures that were taken at the very end, we had a pretty amazing time. Or, so you would think – by the look on my face!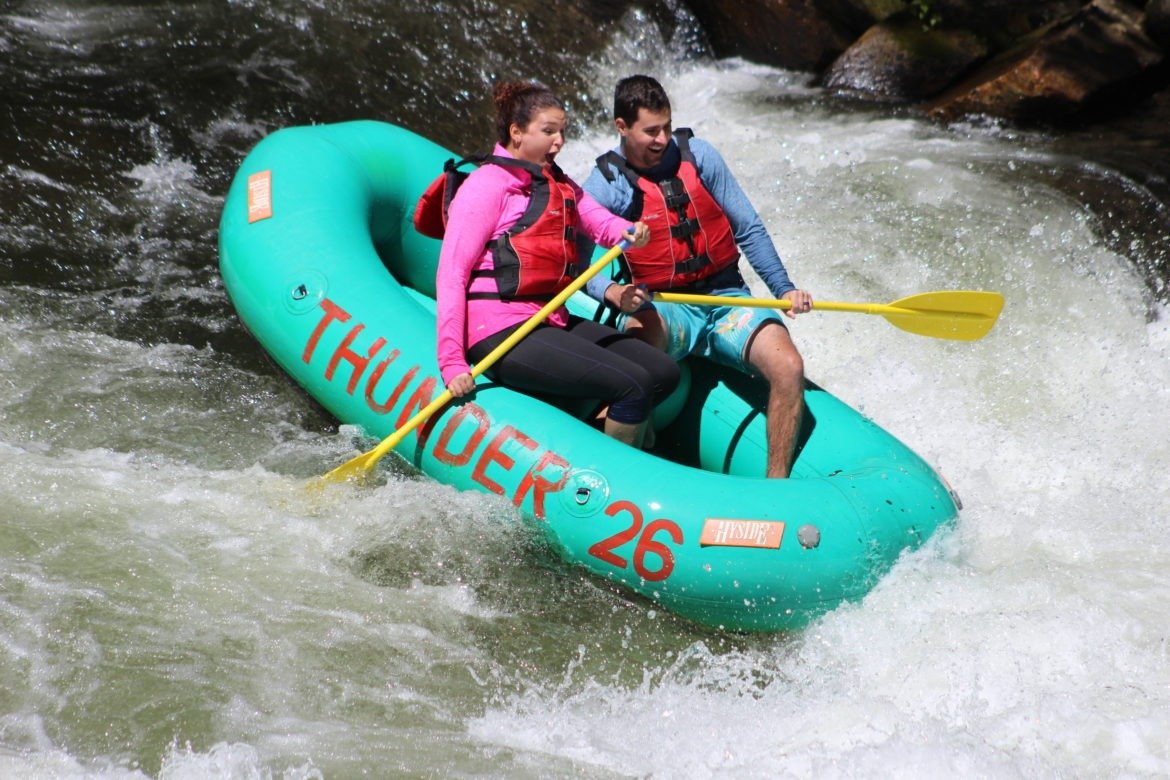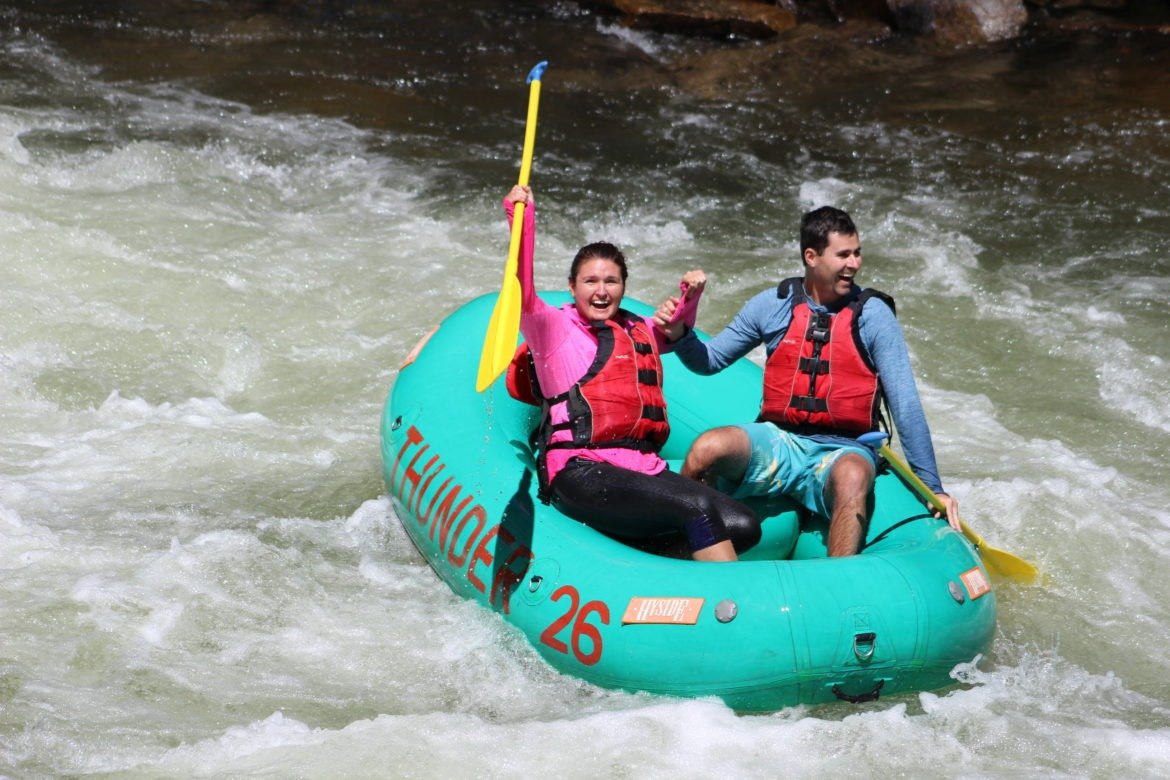 Here you can watch a compiled video of the 8-mile journey using our GoPro for your amusement. WARNING: some (excited) language use can be heard in the video.
Jim's Smokin' Que
On our way back from rafting, exhausted and exhilerated, we stopped for early take-out at one of the most popular BBQ joints in the area – Jim's Smokin' Que. This gem is only open a few days a week – and no wonder! Hands down the best smoked BBQ we ever had – highly recommend the ribs and peanut butter pie.
Unfortunately, that evening we received the news that Hurricane Irma was heading directly over our home in Florida. We had to make the last minute decision to leave Friday instead of Sunday to prepare our house for the storm, since it would be making landfall Sunday afternoon, and my husband would be inevitably be called into work.
Silver lining: an 8-hour trip from Orlando, for two whole days of a trip to Blue Ridge, was totally worth it!