Connect with me on Twitter, Instagram & Facebook so you don't miss the latest blog updates!
It's quite the understatement as to how much I love a good bruschetta. While it's not something I normally do with pasta, I wanted to try a cleaner way of eating it rather than slapping on the tomato sauce and calling it a day. I'm swarmed by the abundance of recipes out there for Bruschetta chicken pasta, so I gave it a whirl.
I decided to go ahead and prepare a fermented garlic/herb/olive oil blend before this dish – days ahead of time – which would be the sauce for the pasta. I honestly wasn't sure what my husband would think of this – the selective eater he is – when it comes to trying new things. He absolutely hates vinegar, so I knew Balsamic was out for him. But, it's a staple for any bruschetta – so when you make this recipe, use it. I didn't.
It was a bit of work, since I pan fried the chicken – while anyone else could simply bake theirs, and do without breading it. But I went all out. Nonetheless, this bruschetta chicken pasta dish turned out amazing – it was so savory and light, yet full of flavor.

Savory Skillet Bruschetta Chicken Pasta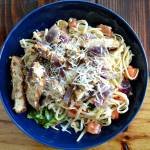 Print This
Ingredients
2 Chicken Breasts (4 thin sliced halves)

3 Vine tomatoes

1 Red onion (large)

3 Minced garlic cloves (or 4 tbsp garlic powder/pre-minced garlic)

1 Egg (large)

3 Cups Italian bread crumbs

1 Box linguine pasta

4 Cups Vegetable Oil

4 Cups OO/EVOO

2 Cups graded Parmesan

2 Cups Arugula (optional)

Salt & pepper to taste

Fresh parsley

Balsamic Vinegar
Instructions
For the fermented OO blend:
Find a container to hold your OO blend. I used a finished glass salad dressing bottle! I simply added the minced garlic, fresh parsley, salt and peper and OO, gave it a quick shake and allowed it to ferment for three days. You could go longer than three days if you wish.

For the main dish:
Begin by prepping your chicken breasts, and a large skillet with 4 cups of vegetable oil on medium heat. Crack and whip 1 egg into a bowl, and pour 3 cups of the Italian bread crumbs onto a large plate. Thinly slice your breasts into 4, or pound the two breasts with a mallet into thin pieces.
Dip your breast slices into the egg mixture, and then onto the bread crumbs. Flip until you have the chicken thoroughly covered before adding to the heated skillet.
Each side of the chicken should cook until golden brown before flipping (about 3-4 minutes). You want the temperature not too high so it doesn't burn the outside, allowing the chicken to cook through. When each breast is done, place on a plate with a paper towel to soak up excess oil.
Once the breasts have been pan fried, allow to cool before slicing into thin strips – then set aside covered with foil to stay warm. Chop up your large red onion, garlic cloves, graded Parmesan and tomatoes. Prepare a pot of water for the pasta and bring to a slow boil.
In the same skillet (drained and washed from the oil), start by sauteing the red onion and minced garlic on low heat until translucent. If you are using garlic powder, add to the pan after the OO. If you did not ferment your garlic/OO/herb blend beforehand, add in the 4 cups of OO to the pan and turn down the heat to a simmer. Then, crack in salt and pepper.
Add linguine to the pot and cook until Al Dante. Once drained, add pasta to OO in skillet and toss thoroughly.
Add the tomatoes to the skillet, fresh parsley, graded Parmesan and Arugula (optional) and toss lightly. You may toss chicken in if needed, or simply place the chicken directly onto the serving bowl.
Prepare the dish by placing pasta in a bowl, with chicken strips on top. Garnish with extra OO, fresh parsley, graded Parmesan and Balsamic Vinegar.