First off, we all know Florida is surrounded by water. And foremost, surrounded by some of the country's most beautiful beaches. But the entire state has countless beaches alone. And there are must see tropical Florida beaches you should have on your bucket list, RIGHT NOW. Because you won't believe your sights on these tropical paradises.
You probably know of the most common ones: Miami Beach, South Beach, Panama City Beach, and Daytona Beach. Those are top ranked in Florida's most popular destination beaches. Being a Florida born girl, I've seen them all. If I had to be honest, they're only popular due to vicinity – those beaches are close to dense cities and attractions, so they're crowded beaches for most of the year and especially during peak season.
But if you're looking for that secluded, tropical island feel – those beaches are far out of range for where you should be looking. Luckily for you, you can find that remote tropical paradise in the states without having to leave the country!
Florida has some of the most underrated, most beautiful tropical destinations, and here I had listed the top must see remote Florida beaches. I have had the pleasure to visit them all, and I can guarantee you will feel as if you are on an oasis – especially if you visited at the right times of the year.
*This post contains affiliate links. If you purchase through these links, I will receive a teeny weeny commission!*
Must See Tropical Florida Beaches
---
Fort Zachary – Key West, Florida
I have been to the Florida Keys two times in my life already, and if you truly want the remote island feel, this is it. Key West has only two man-made beaches, since the island sits upon mostly rock.
Fort Zachary is technically a state park, but it has a small portion of beach on the south end of the island. As you can see from the picture I took, you can sit on the white sands and watch the cruise ships come into port. Magnificent, right? Wait, there's more!
The water sits in sort of a lagoon, which is perfect for snorkeling, because there are rocks that sustain some beautiful coral and different types of fish. The park also has walking trails, an old self-guided war fort and concessions. It's the perfect park if you're looking to get married on the beach overlooking that sun setting behind you.
The Florida Key's peak season is January through May, where you'll see the most spring breakers down for vacation, and the northerners come down for it's warm all year round 75 degree climate.
---
Clearwater Beach, Florida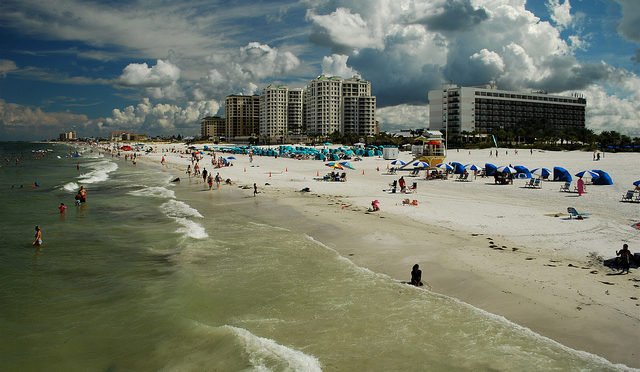 Photo Credit: rcgtrrz (Flickr)
Clearwater is quickly growing as one of the more popular beach destinations. And I am biased because I grew up coming to this beach with family, and years of family vacations were spent here.
You can't go wrong with it's pristine sea-green waters, that are calm enough to wade in all year round. It's perfect for snorkeling or waist deep fishing. Amenities are right there on the beach for you to rent – jet skis, paddle boards, kayaks, and even parasailing. It's definitely one of the hot spots for fantastic sunsets like you see on postcards.
The beaches' sand is soft and white, stretching for miles. Clearwater itself is an island strip containing one major roadway, which holds some of the more popular hotels right on the water. It's walking distance to shops and restaurants, and a short drive to Tampa for Busch Gardens.  Wherever you stay on Clearwater Beach, you're bound to be a very short walking distance from dipping your toes in the sand.
For De Soto State Park, Florida
Photo Credit: Pinellas County (Flickr)
At the tip of St. Petersburg, south of Clearwater, is a state park known for their off leash dog beach. Not only that, but it's popular for their beach campground. This calm and quiet area is a perfect getaway from city life to enjoy the park's natural beauty.
I've taken my dogs there multiple times. It can be a perfect day trip, or weekend getaway if you camp there. You can also stay on St. Petersburg Beach or Clearwater Beach and make the trip here for a day.
The park is made up of 5 islands, with easy touring access with a boat or kayak. You can  explore the 1,000 acres of wildlife, and take a Ferry to another one of the popular islands of Egmont Key, another state park with other recreational activities at hand.
Anna Maria Island, Florida
Photo Credit: Anna (Flickr)
Just south of Clearwater Beach is the island of Anna Maria. Much like Clearwater Beach, this strip of beach is less crowded and focuses more on the  a remote tropical appeal. I have taken many family vacations to the island – if you're big on fishing and boating, then this is your place.
You'll find some of the best seafood restaurants, fishing, boating and island touring excursions,  along with it's laid back atmosphere. A short drive away is a large roundabout of local shops and artistry called St. Arman's Circle. There you will find high end restaurants, stores and touristy shops.
It is also recommended that you take the road over the Skyway Bridge nearby, one of the tallest bridges in the country.
West Palm Beach, Florida
Photo Credit: Ethan Oringel (Flickr)
The classic West Palm is known for it's high end appeal, where miles of beach resides with some of the nicest hotels and houses. As one of the three major cities in Florida, you're sure to feel like luxury here. You'll look out at the Atlantic for some of the best sunrises, and be steps away from the beach from your hotel.
Depending on where you stay, hotel staff will cater to you while you are on the beach, which is nowhere I've experienced before.
West Palm has many local shops and restaurants within walking distance, and the beach is a short drive to their premium outlet.
Bahia Honda State Park, Florida Keys
Photo Credit: Joy (Flickr)
Another beautiful Florida Keys beach is in Bahia Honda. It is located in the upper Keys from Key West at mile marker 37. This state park is a campground but also houses some well known coral reefs right on its property. Stay in a camper, tent or one of the park's three lodging cabins.
Snorkel right off the beach to see some of Florida's natural wildlife in the clearest waters. It's 500 acres is the perfect beach-combing experience for the entire family, with many trails and areas to explore. Kayaking and tarpon fishing are some of the best here in the Florida keys.
The state park is all within driving distance to other major areas of the Keys, including an hour to Key West, or Marathon.
Cocoa Beach, Florida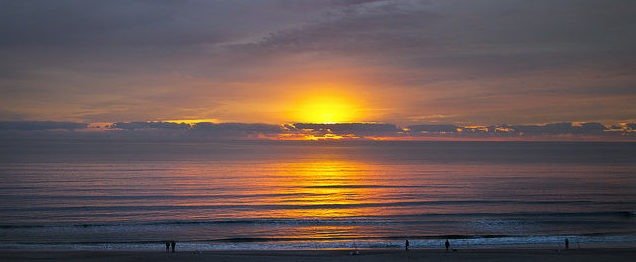 Photo Credit: Pinellas County (Flickr)
The beach never given enough credit is Cocoa. Although it's quite different from others. From it's brown, speckled rough sands – it's beautifully harbored beach town is desolate from tourists. You will have to pay to park, walk a short distance to the beach, and trek through the tough sand for a spot. But it's a hidden gem for centralized Florida.
It's actually the closest to all the Orlando attractions, yet far away from the touristy spots.  You're also closest to the Port Canaveral Cruise lines, and Space Coast Kennedy Space Center where you may get lucky to see a rocket launch from the beach. You won't get a view like that at Cocoa anywhere else!
---
Share, pin, tweet and pass it on! Feel free to comment and leave feedback!