Chili is such a southern staple. And already being a soup lover, chili is just another version of that for me, except meatier. And this knockout crock-pot pulled pork chili is beyond a winner in the chili game. I'm always trying to think of new ways to spruce up the regular chili recipe. It was a new found love and hobby to do more crock-pot meals, and it dawned on me one day when I threw a pork butt in the crock-pot.  If you don't have one already, it's key to have a
crock-pot
for this recipe. And preferably, one that is much larger for dishes of volume.
This recipe is so flavorful, you would think it needed a different name than the classic chili. So if you're a pulled pork fan, and a fan of chili in itself, then you have to try this knockout crock-pot pulled pork chili recipe.
*This post contains affiliate links. If you purchase through these links, I will receive a teeny weeny commission!*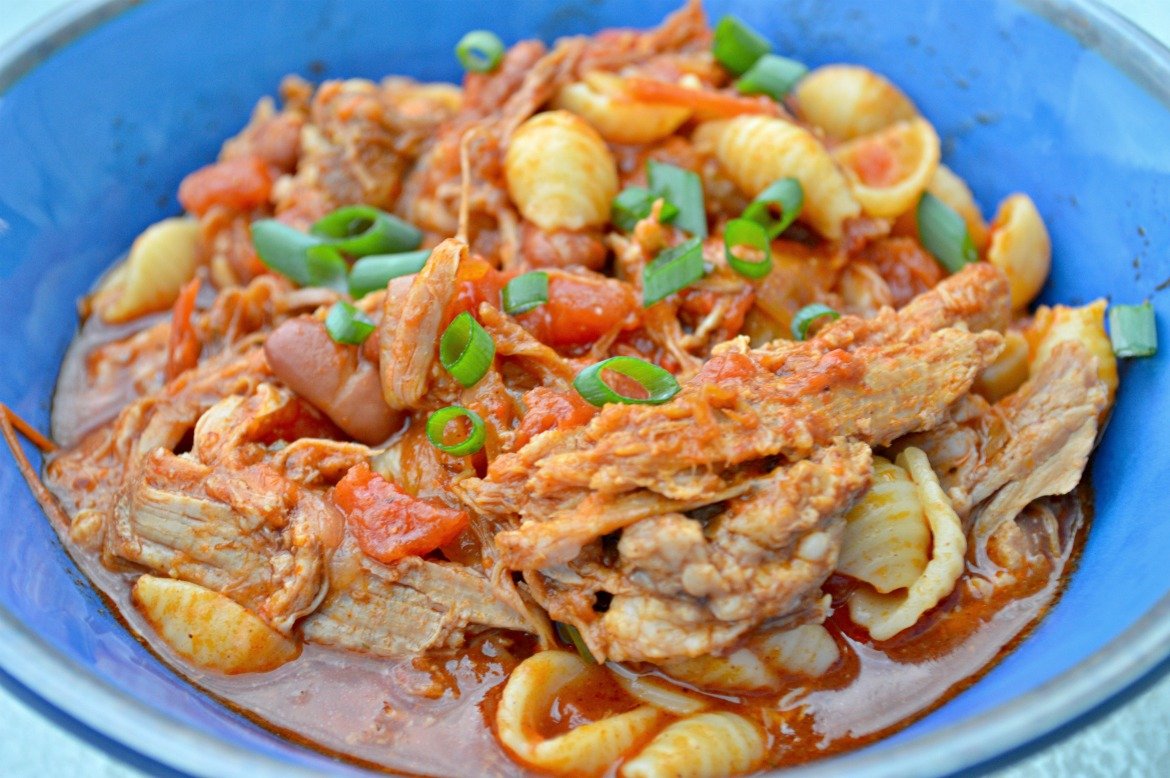 Knockout Crock-Pot Pulled Pork Chili
Print This
Ingredients
2 lb. pork butt/shoulder

1 64oz. container v8 juice

2 cups water

2 16oz. cans chili, kidney or pinto beans

3 minced garlic cloves (or 3 tbsp garlic powder)

2 green bell peppers

1 large white onion

1 16oz. small shell pasta

1 14.5oz can diced tomatoes (or 2 large freshly diced tomatoes)

5 tbsp chili powder

4 tbsp cumin

2 tbsp salt

2 tbsp pepper

1 tsp cayenne powder

1 tsp paprika

2 tsp turmeric
Instructions
I originally purchased a 4 lb. pork shoulder (bone in), but only required half the amount of pork for this recipe. It's difficult to determine what size pork you'll get, but it's easiest to cook the entire thing, and freeze the amount you don't need.
Prep your pork butt/shoulder in the crock-pot on low heat, adding in two cups of water to the crock-pot. There is no need to season the pork beforehand. Allow the pork to cook on low for about 8 hours, until the meat is able to be shredded with a fork.
Due to my crock-pot being small in size, it was not going to be big enough to contain additional liquids and ingredients. So I had to use a large stove cooking pot. Be sure to make this determination before adding in the rest of your ingredients.*If you do end up having to use a large cooking pot, set the heat to medium and start first with dicing  your onion, garlic and pepper – sauteing until slightly tender (about 3-4 minutes) before adding in the vegetable juice and seasonings. Then turn the heat down to low. Then, continue to step 6.*If you are able to use the crock pot for all ingredients, continue to step 4.
Do not drain the juice of the pork. Once the pork is shredded, pour in the vegetable juice and turn the heat to high.
Dice up the garlic, onion and green pepper, and adding that to the crock-pot along with the beans, diced tomatoes and listed seasonings.
Allow the chili to simmer for up to 2-3 hours until vegetables are tender.
Add in the pasta shells and allow to cook for 10-15 minutes before serving.
Garnish chili with freshly shredded cheddar and top with cilantro or chives.