Our first stop in our 10 day trip to Italy was Venice. Between my husband and I, we decided to make Venice our 'low key' stop of the trip, being it was the first city and our first three days into the trip. Did we go in with a list of things to do in Venice? No. If you're making a trip solely to see Venice, the best advice I will be able to give you here is how to spend 3 low key days of your time relaxing and simply being – Venice was our 'take it one day at a time; whatever we feel like doing' city. And I'll be honest, as we look back on our trip to all three cities and out of the most that we did in Rome and Florence, we enjoyed Venice the most. And we hardly did anything!
Did we enjoy spectating the beauty of history in museums? Of course. Wasn't it part of the plan to learn about Italy and it's history and ancient grounds? Sure. But, you know what it is we absolutely remember the most looking back on that trip? Sitting on that random park bench watching the locals go about their usual day, sipping on a spritz before noon overlooking the grand canal, making conversation with the bartender at a small hole in the wall cafe because we were his only customers, or at 3pm deciding I needed my third espresso – because, who cares, look where we are right now? Those are the memories that stand out the most for me. And I'll tell you how you can have those memories, too.
We flew into the Venetian airport a little later than expected – about 9AM. It was in the middle of April at this time, and the temperature was in and around the 60s and 70s with sunshine and a chilly breeze in the air. Jet lagged, tired, and a little doozy from keeping myself awake the entire plane ride over, we made our way to the ticket center for the water taxi. That was going to be the quickest way to our B&B.  Though you can take a bus to the main island – you would have to either walk or take a water taxi to your hotel if it is located on the opposite end of the island. So my husband, seemingly well aware there was no other way at it is, said, "Andiamo!" Word of advice: if you are jet lagged, get sea sick easily, or are claustrophobic – take the private water taxi (a wee bit more expensive, but worth it), which will get you there much faster being it doesn't carry over 10 people in one boat.
We, unfortunately, took the public water taxi. And I was incredibly sea sick on that ride over. I was not a happy camper – especially with the fact my husband kept toying with me and taking pictures while I was trying to get a view of the horizon from out of this boat's tiny windows inside. Nonetheless, our taxi over all the others was going the slowest through the full speed channels, as waves kept crashing in and rocking us on both sides. I thought I was going to be sick on the other passengers.
But we made it to our bed and breakfast a block and a half from our taxi stop – vomit free. The Ca' Bonvicini was so quaint and small inside. But our room was beautiful, overlooking a narrow canal from our windows. I was love struck by the overload of gold tones and richness feel (as pictured below), especially from our view out the window. If you want peace and quiet, choose accommodations away from the train station and the Grand Canal – as we had taken that advice, and our place remained so quiet we could have slept with the windows open.
10 Day Itinerary To Italy | How To Spend 3 Low Key Days In Venice
---
Day 1 (Arrival Day):
At about noon, we made the decision to try and stay awake the entire rest of our arrival day. What we should have done is take a power nap until dinner, but we decided to take on such a beautiful day in the city.
I don't know why the first thing I didn't do was get an espresso (I was out of it and completely naive, I suppose), but we made our way to the Piazza San Marco. It was beautiful – crowded – but beautiful. We weren't really in the mood to wait in line for the Basilica, so we decided to head over to see the infamous Rialto Bridge – another very popular, touristy area. This quite large bridge is lined with shops, craft items, and a farmer's market feel. Super crowded in the middle of the day, as many are making their way to and from the restaurants that borderline the bridge at its ends along the canal. We did stop and find a place for gelato, which was one of the highlights, and might I add: makes your jet lagged arrival day feel much, much better.
Shortly after getting through the crowds of the Rialto nearly two or three times, I think I was overwhelmed with fatigue that I told my husband if we didn't get to picking a restaurant to eat I would soon collapse from sleep. I honestly couldn't tell you where we had an early dinner that first day – it was a small, quaint and empty restaurant close to our hotel. I just couldn't bare to be around the crowds and have our meal take hours. I had gnocchi for the first time – I remember that – and it was delicious. But I honestly couldn't wait to get back to the hotel to sleep.
By 5pm, I could hardly walk any longer. We made it back to the hotel, where my husband tried and failed to tempt me to staying up and out til at least 8 – knowing if we went to sleep now, we would be up far too early. It was too late, I passed out without even getting undressed and under the covers.
And, he was right. By 1am, we were wide awake, with eventually able to doze off once again until early morning.
Day 2:
Let me first say a little something about breakfast. Our bed and breakfast, the Ca' Bonvicini, included 'in room' delivered breakfast (every morning). I know. This is why we always try to go B&B, even if it's a little pricier (you're going to pay the money to go out for breakfast, anyway!) And B&B always serve breakfast, and I'll just say – they're never your typical continental at the Holiday Inn.
So I'll tell you, after that airplane and airport food, getting your breakfast hand delivered to your room was a Godsend. And though I was stupid enough not to take a photograph of these decadent trays of food each morning – there just wasn't enough time before we dove into it. But I just want to clue you in on why we devoured every breakfast; with the choice of hard boiled eggs and yogurt, there was also these sweet croissants with sliced Swiss and ham, served with honey, as well as the little Baby Bell cheeses. And, of course, my added request for a cappuccino. The best part was being able to eat our breakfast by the open window of our canal view room – how dreamy!
So here I am, a lover for cheese, and I am basically toyed with the fact that it is acceptable and even encouraged to eat cheese in the morning. My husband must have thought I was ludicrous, because I took my croissant and made a ham and cheese sandwich with honey. It is still something I rave about today. Of all things!
Now, our first real day, but truly second day in Venice, we set out to explore. You would be wide eyed to find out that we didn't really have much of an itinerary in Venice – other than to just go with whatever we feel like doing and seeing.
I can show you for sure how we spent a lot of our first real day in Venice: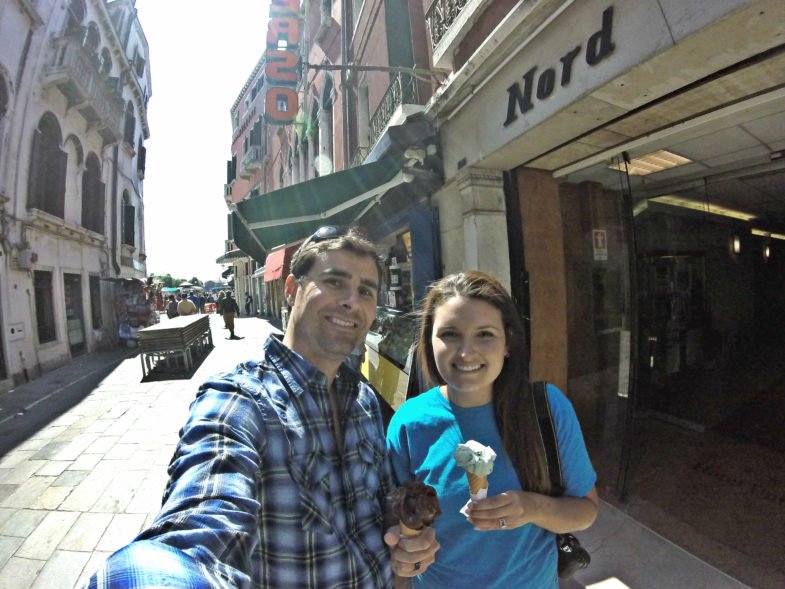 One of the very first things we noticed as we began walking around the alley ways and along the main canal is how early people started drinking. Mind you, this was a Wednesday at about 10am – as older men, young couples and friends were sitting outside of small cafes with a glass of wine or a spritz. So, what did my husband and I do? Yep – stopped and had our first glass of wine in Italy at nearly 11am. No shame.
From the photographs above you might be thinking, is that all they did is drink? Where's the manga? Of course – we did a lot of that, too. But frankly, not as much as we hoped. I think mainly because we were quite skeptical and abnormally indecisive. I had this mindset that we were not supposed to eat at the 'high volume, touristy spots' because they jacked up the prices and the food and rich Italian experience wasn't as authentic. Unfortunately, I bought into that hype, and really wish we hadn't. I wish we had done more of the 'eat a little bit here – an hour later eat something from here – oh and pick, pick, pick at samples from the market', but unfortunately we hadn't. Nearly around every corner is a cheese, chocolate, candy, pizza, or meat shop. Heck, there was even a little shop solely for olives, pickles and everything in between.
For some reason, it took us a lot of time to figure out just where and what we wanted to eat. That I don't understand to this day. As there were restaurants and cafes everywhere you looked. We did settle upon this small pizza place for lunch (they had some of the most spectacular looking pizzas displayed in the windows), called Antico Forno. We sat outside, people watched as we ate. It was very nice. But if I had to be frank – the pizza was average compared to what I was used to and my expectations were probably way too high. Though this was just one of the dozens of different pizzas displayed, as I tried to go all gourmet about it. But from the picture, obviously, it looks out of this world good.
There is one particular thing we did spontaneously, and I wasn't allowed to bring my camera in to prove it. We ventured into the Venice Casino that afternoon to play the slot machines. I had never gambled before, had really no clue what I was doing, but it was fun – it was something to do that we can say we did in Italy. My husband was for some reason really excited about this, and he's not even a really big gambler. But why not?
Other than that, honestly, our day was mainly just setting our eyes on the sights – from purposely getting lost in the alley ways, to finding ourselves at hidden gems to settle for a Spritz or an espresso. We eventually stumbled upon the Venetian Police Department (being my husband is a police officer), which was such a highlight for him to see. We also discovered what appeared to be the only grassy park along the Grand Canal in Venice – full of trees, flowers and the only sign of wildlife on the island other than birds. This was a place to see many locals bring their dogs – it was more common than we expected to see in Venice.
For dinner, it was our motive to go to a nice restaurant that we had researched about near our hotel, called Osteria mocenigo da Guio Luca. They didn't take reservations, but told us to beat the crowd by getting there early. We got a little dressed up, and set out as the sun went down to find this restaurant. Mind you, these aren't like in the states. This place looked to be a house from the outside, a tiny sign in small print with its name and not but two small windows out front. We weren't even sure it was open, because we were the only ones to be inside.
This was our first real restaurant experience, and it was interesting – to say the least. I will add, the service is not quite the same as it is in the states. I had read about it, braced myself for it, but didn't quite take it into account until we got our taste of it this evening. And I want to tell you about it – straight up – if you've never been to Europe or Italy. For me, I wish someone had just told us to be more '
aggressive
' as far as getting what you want in the service industry, because that's literally the mindset you must have.
It started with standing at the door in the restaurant, where it's custom to us to wait for someone to acknowledge and seat us. But there was no hostess, yet we were very unsure whether to seat ourselves. It was the awkward 'what should we do?' situation. After what seemed like hours, a loud and boisterous man called out to us from the bar and told us to take a seat anywhere. I mean, we were the only ones in the restaurant at this time. He must have known we were 'tourists', because he automatically spoke in broken English.
Ordering was like we were in a state of frantic panic. The same boisterous man stood and leaned against the extra chair at our table (without a pad or paper in hand), standing there like, 'Okay, so what do you want?', before we had even opened our menus. I know we were just over analyzing this, but I'm very passive as it is – so getting the feeling of being rushed put me in this 'uh….uh….I forgot why we're here?' state.
We were so awkward at this point – because the waiter (At least I think that's who he was – he could have been the owner for all I know!) was just staring at us and I was feeling the pressure. I'm getting beet red, as my husband goes ahead and simply asks for a beer to start. So, I replied with a glass of house white wine (since asking for 'house' is generally the least expensive wine option). I'll never forget how many times we looked at each other – wide eyed, dazed and just how out of the norm we were (when we really had no reason to be – we were on our honeymoon – apart from, yes, not actually living here!)
My husband got the Tuna Steak, while I got the Sea Bass. It was delicious, and it was even more interesting to watch me tear an entire fish apart. Food wise – fantastic – and there were many options I wished I had tried.
There's an expected level of 'ask and you shall receive' than an automatic quality of service. So if I ever wanted more water, I had to flag down the waiter and ask. They didn't casually walk around and check in or as if we needed anything. That portion was absurd to us still, already knowing ahead there was the 'no tipping' rule in the dining world here. I get that – but again, not what we were used to. But it was hard enough just to even track down our waiter for the check at times. Not to say our first experience was awful – it was great, delicious in fact – the experience is all just something we were not expecting or used to and takes getting accustomed to.
All in all, I think we were too early for the usual locals – since when we left it seemed half the restaurant was packed with more entering – and this was around 8:30. We were definitely not in Kansas anymore.
Day 3:
Another superb breakfast this second time around. And a fresh start to another whole day in Venice – again, with no plans in our book. It was another day walking around, this time on the other side of the Grand Canal that had similar rows of dense shopping and tourists walking about by the afternoon. This was one of our days we must have had gelato in the morning and a couple times that afternoon.
Returning near the Rialto, we found a fish, meat and produce market. It was hands down one of the most fun to see and walk around, as people gathered near a foundation where skits were being put on for children to play. We must have hung around there for hours taking pictures of the Gondolas and the boats. Another recommended place to see if you're visiting Venice on a Tuesday-Saturday.
Eventually, we found a place that seated outside along the Grand Canal and settled in for a Spritz, called Osteria Bancogiro. Again, we could have sat there all day watching the boats go by, and people watching.
Later that afternoon into the evening, on a clear skies day, we had to do the inevitable: take a Gondola ride. It was our last night in Venice and we knew it was now or never. With much convincing from my husband, as we handed the guy over 100 euro for a 20 minute cruise, I have to think back and say I'm glad we did it. There were too many who said the Gondola is overrated and expensive for the amount of time given, but we got to see Venice from a new perspective, and got to know our Gondola guide on a personal level as a local (which was nice).
We chose another restaurant that night, one we must have walked by several times during our venturing, called  Muro San Stae. We ate outside at sunset – it was beautiful – and we even seated next to a couple our age, that seemed to be in the same boat as us (maybe even on their honeymoon, too).
My husband had the steak, and I had this amazing craw fish pasta dish that I had remembered seeing on TripAdvisor – I had to have it. It was exactly as pictured, and it was too picture worthy not to take one. And it was very good – I don't think I even finished it all there was so much food.
We walked around more then evening into dark along the grand canal. It was a spectacular place to be as night fell. The area gets relatively quiet and calm by now, and with few lights it just made our surroundings so serene. I highly recommend taking a night walk (as long as you know your way around by now).
Day 4:
That morning, we were greeted with another amazing breakfast in our room. Though we had to hustle because of our train departure, getting to the train station from our hotel took no longer than a 15-20 minute walk. I had never been on a train, so I was internally very anxious and excited.
By 10:30am we were off to start our next adventure in Firenze, Italy.
---
Stay up to date for our next upcoming adventure to Florence and Rome by subscribing to theMRSingLink