If you're a grilled cheese addict, like me, I'm always finding different ways to spruce up just the regular good ole' grilled cheese. There are tons of different recipes out there – but a must have is the Buffalo Chicken Grilled Cheese.
But I like meat – I can't deny that – and I like spicy things, and if I'm going to make and eat grilled cheese it's going to be worth it. What's worth it is this new render of grilled cheese I've concocted. It's a spin off of a classic buffalo wings inspired grilled cheese – The Buffalo Chicken Grilled Cheese.
I just had this last night – let me tell you – be prepared to want this multiples time a week simply because ITS SO GOOD, but ITS SO EASY to make! And you only need a few things on hand.
Easy Buffalo Chicken Grilled Cheese
---
Servings: 3     Prep Time: 10-35mins     Cook Time: 10 mins     Difficulty: Easy
---
Ingredients:
1 boneless chicken breast (or leftover chicken, chicken wings, thighs, any part of the chicken – 1 chicken breast will make 3 sandwiches)
Frank's Red Hot Wing Sauce
Bread (or you could try a fancier bread such as Sourdough or Rye!)
Butter (to spread on your bread slices)
Cheddar Cheese/Mozzarella Cheese ( 1 cup OR MORE of each)
---
Directions:
Step One:
If you have leftover chicken, this is a perfect weekday meal. Simply use the leftover chicken and chopping it into fine shavings. If you don't have leftovers, boil up a chicken breast for approximately 30 minutes first – then shred the chicken into shavings.
Step Two:
Then begin by spreading butter onto one side of your bread slices. Heat up a skillet on low. In a large ziploc bag, pour 1 cup of Frank's Red Hot Wing Sauce. Add the chicken shavings into the bag and coat the chicken thoroughly with the sauce.
In a bowl, shred 1 cup of cheddar cheese and 1 cup of mozzarella cheese.
Step Three:
Start by placing one of the buttered bread slices onto the skillet (butter side DOWN). Top that piece with the cheese you graded, then spread on a layer of your chicken mixture. Then top that with more of the cheese before placing your other bread slice on top (butter side UP).
Press down lightly with a spatula. Here you can turn up the heat slightly medium-low. It's best to keep it on a lower heat so that the center and all of the meat and cheese is heated in the middle.
Flip until both sides are evenly brown and crisp to your liking.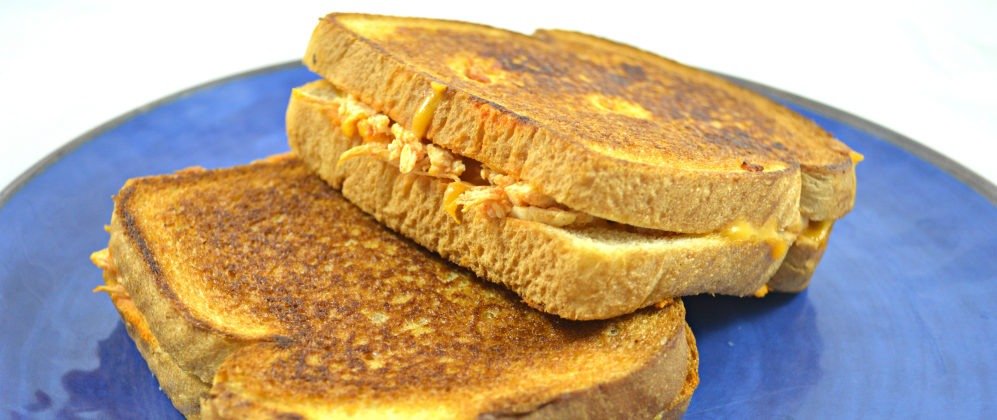 Share, pin, tweet & comment – I'd love to hear how you like this recipe and if you have other grilled cheese ideas!