Almost every year my husband and I make the 7-hour hike from Orlando, FL to the Florida Keys. It's part of our ritual to eradicate such stereotypes of the Florida Keys, and Key West, being this '
party spot for youngsters
'. 
Wait, I guess we are them. 
Instead, we enjoy highlighting the major Florida Keys
hot spots
 that only locals seem to talk about.
Is Key West more so full of the young, loud, boisterous teenage crowd? In peak season – absolutely – since, well, that is generally because of Spring Break and winter break (when the snowbirds come down from the north). Avoid those times at all costs, and the Florida Keys is actually underrated as the closest to paradise without ever leaving the states! And if you're having trouble being convinced, allow me to go into 55 Vacation Planning Hot Spots in The Florida Keys.
*This post contains affiliate links. If you purchase through these links, I will receive a teeny weeny commission!*
55 Vacation Planning Florida Keys Hot Spots
** = HIGHLY RECOMMEND
---
Florida Keys Hot Spots – Must see & do
Upper Keys
John Pennekamp Coral Reef Park (Key Largo)  Camp, swim, snorkel and explore the state park's vegetation and wildlife.  It's a great place to relax on it's sandy beach, or snorkel coral formation and marine life. There are camp sites for overnight visits, or is a great day-trip experience. It is a dog-friendly park, except for the beach itself.
Dolphins Plus (Key Largo) Interact with marine life, and explore the nature of one of the most amazing sea mammals – the dolphins. You can swim with the dolphins, and learn how you can protect their natural habitat.
Looe Key (Tavernier) Take a charter boat to the reef at Looe Key – dive and snorkel it's reef formations and wildlife playground.
Lignumvitae Key Botanical State Park (Plantation Key) This preserved island botanical garden is unique in itself. Colonized by canopies of trees and plants, enjoy a nature walk, guided tour, fishing off the rocks and flats or kayaking.
Founders Park (Plantation Key) This park has a strip of beach, where guests can relax, swim, snorkel or enter the park by boat. They have a lap pool, and likely have events hosted at this park on the weekends with food, entertainment and shopping.
History of Diving Museum (Islamorada) Although cheesy from the outside, this gem is one of those places you should see once. Great for kids and families – learn about 4,000 years of the diving evolution.
Robbie's (Islamorada) Feed the tarpon. Yes, you heard me right. Feed the tarpon at Robbie's. As it is also a restaurant, fishing charter and tour guide – Robbie's is famous for the tarpon feeding on it's grounds. It's unlike anything else to experience, and inexpensive for the whole family.
Anne's Beach (Long Key) Anne's beach is one of the very few desolate (somewhat sandy) beaches in the Keys. It's dog-friendly, so take that up in your decision as many locals bring their precious pooches here to play. The areas are surrounded by mangroves, which makes the feel pristine and quiet. Mind you, this isn't the normal paradise beach feel, but very 'park' like. If you enjoy a short nature walk – then this place may be up your alley of enjoyment.
Long Key State Park (Long Key) There isn't much to this park, but if you want a great view of the Atlantic from a beautiful white sandy pristine beach, then this is for you. Hike the boardwalk trails through the mangroves, where birding is widely popular, and climb the wooden observation tower for a unforgettable view.
** Curry Hammock State Park (Vaca Key) The largest uninhabited state park in the middle and upper Keys. The enjoyment is surrounded by it's beautiful stretch of beach, hiking trails, and great snorkeling just steps into the water, and some of the most amazing mangrove kayaking tunnels. Definitely a hot spot worth hitting!
Sunset Park Beach (Fat Deer Key) It's all in the title. This is one of the hottest spots to catch a perfect sunset. It's beautiful, yet small, park isn't much to brag about – but when the sun is going down, this is the place to be. Just make sure to have your camera in hand.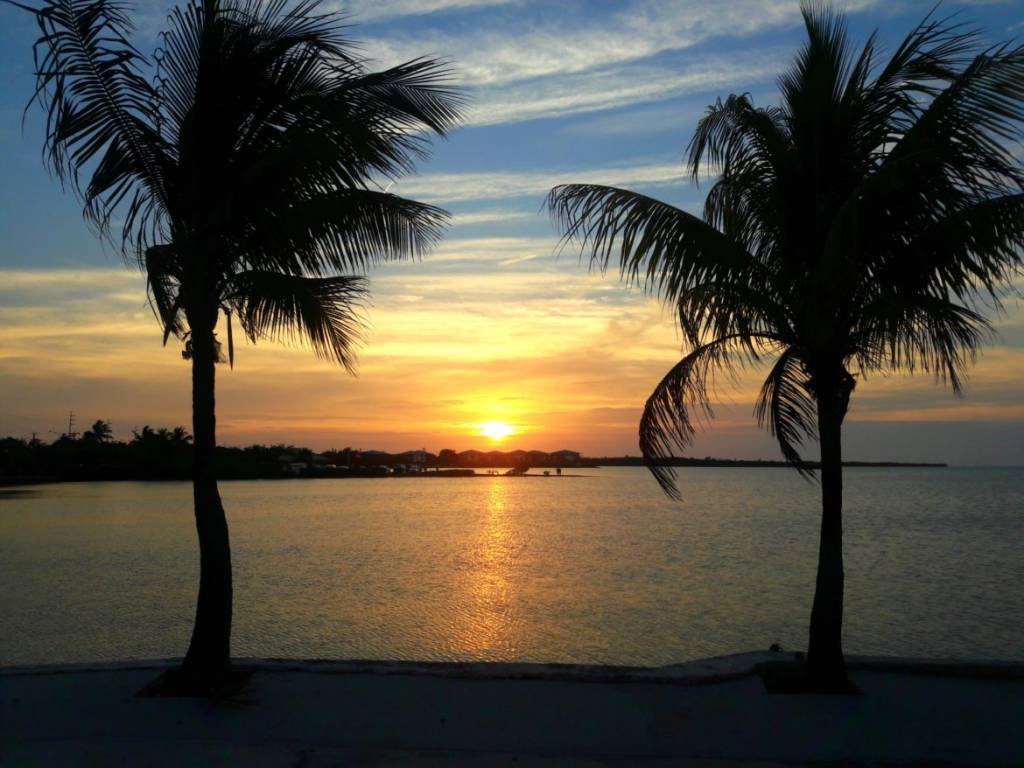 Middle Keys
** Sombrero Beach (Marathon) Another dog-friendly beach! This beach is quite large, and open. Probably one of the very few quality beaches in the Keys, with a soft sanded shore, and embellished with a large park and two bathrooms/showers. It's the perfect place to set in your kayaks or canoes for a mangrove adventure in the nearby sailboat marina.
Florida Keys Aquarium Encounters (Marathon) I'm such a sucker for aquariums. Explore the multiple exhibits such as the coral reef tanks, predator and tarpon tanks, and even a touch tank. Schedule a lagoon snorkel, and swim with marine life up close!
** The Turtle Hospital (Marathon) The Turtle Hospital is an experience I will never forget. This is the Florida Key's rehabilitation center – as you get a close up look at some of their patients being nursed back to health, and even catch a glimpse of their turtle nursery. Learn how you can protect these docile creatures in the wild, and even get lucky by being able to watch them do a 'release' day at Sombrero Beach!
Pigeon Key (7 Mile Bridge) There's only two ways to get here – by ferry, or by walking a long portion of the original 7 mile bridge. Take a guided tour of this historic district, snorkel around the tiny island, or fish off their dock. It's a great hang out for a picnic and day time activities.
** Seven Mile Bridge (Marker 47) In it's simplicity, the original 7 mile bridge is walkable from either side. Fishing off the bridge is extremely popular, as the bridge's waters below are known for game fish. Not only is it an impeccable view from all around, it's an excuse for exercise or getting near-perfect sunset photos.
Lower Keys/Key West
** Bahia Honda State Park (Bahia Honda Key) Come for the day, or camp right along the water's edge! Bahia Honda has hiking trails, a scenic bridge with incredible views for photos and outdoor activities such as fishing, snorkeling and kayaking. The park is dog-friendly, except for the beach, which is understandable because this beach is by far one of the best you can get down in the keys.
Blue Hole (Big Pine Key) Big Pine Key is already known for their 'key deer' population, and if you have yet to see one – this is the place you need to be! It's common to catch a glimpse of an alligator and other wildlife as well along this hiking trail.
Smathers Beach (Key West) I'm biased since I got married on Smathers Beach, but it's only one of two small strips of beach on the island of Key West. Whether you come to unwind, or ride by on bicycles – be sure to make a stop here for a photo opp.
White Street Pier (Key West) It's a touristy thing to do on the south side of Key West. Plus, it's a nice place to get a view of the island and it's surrounding waters. On a calm day you can see tropical fish and other marine life.
** Key West Butterfly and Nature Conservatory (Key West) I have to say this is by far the most underrated attraction on the island. I was convinced this place would be regrettable and a waste of money, until we reached inside. Prepare to be amazed, folks! Not only were you actually surrounded by thousands of butterflies (as pictures could NEVER do justice), you also get to interact with Rhett and Scarlett (flamingos that roam the conservatory). The best part is – your ticket allows you to walk through as many times as you like – all day long! So go in once, come back later.
Southernmost Point (Key West) I'll be honest – this place is always crazy busy, and there will always be a line of people waiting to get their photo opp here. It's like a Key West ritual now, not a staple. They literally have a guardrail to form a waiting area. So, get there early in the morning (if you don't want to feel rushed), but never go at sunset!
** Duval Street (Key West) If you're going to Key West, you should already know about Duval Street. It's partially the reason to come to Key West in the first place. Although it is mostly filled with bars and restaurants, might I add that the now bigger reason my husband and I love Duval is for their Galleries. Make sure to stop in a few – you'd surprise yourself at the beauty of Key West's local artists.
** Fort Zachary State Park (Key West) Don't miss this one! You can easily make a day of going to Fort Zachary – here's why: it's a beach, as well as a decent place for snorkeling on a calm day, and you can explore the old war fort that was built, take a tour, grab a bite and also watch the cruise ships sail into port. It's one of those places you'll talk about again and again.
** Mallory Square (Key West) Everyone who travels to Key West knows the hype of Mallory Square. But what most don't realize is that the square is most popular at sunset. It becomes a huge gathering of artists, street stands, performers and locals. If you're not keen on large crowds – it's okay to miss this one – as long as you're OK with missing the hottest spot for a sunset picture. Come to watch sailboats cruise out against the setting sun, and check out some of the boats by the marina.
Shipwreck Museum (Key West) One word: corny. I won't hesitate. Was it fun? Sure – kids will enjoy it. It's a shipwreck tour featuring history and treasures. Make sure to climb the top of the wooden tower to get impeccable views of Key West.
** Conch Train Tour (Key West) This is a must! Not only is a way to get off your feet, but I was shockingly surprised at how much I learned about this tiny party island's history. It's not what you may think. There is a lot buried underneath this peppy, party atmosphere. The tour isn't expensive, and it's a great way to settle down after a long day of shopping, walking, and er, drinking.
** Dry Tortugas (Key West) If you can make time for this one – do it. It requires a ferry or sea plane to get there, but if you're keen on adventure, this is it. The Dry Tortugas is a national park located 70 miles off shore from Key West. One of the largest 19th century war forts resides here – Fort Jefferson. It encompasses 7 islands, protected by coral reefs. This is THE place to snorkel unlike anywhere else.
** Key West Aquarium (Key West) I enjoyed this aquarium! It is small, but I was pleasantly surprised at the number of marine life to see in such a small area. You can even see species of shark and sea turtles up close!
---
Florida Keys Hot Spots – The best eats
Upper Keys
The Buzzard's Roost (Key  Largo)
Hideout Restaurant (Key Largo)
Fisheries Backyard (Key Largo)
Wahoo's Bar & Grill (Islamorada)
Morada Bay (Islamorada)
Hungry Tarpon (Islamorada)
** S.S. Wreck and Galley Grill (Grassy Key) My husband and I ate here THREE times in one trip – it was that good. Granted, we got the same thing every time, too. The Buffalo Chicken Sandwich is practically life summed up in comfort food.
Middle Keys
** Island Fish Company (Marathon) Great dinner overlooking the water! Mid range in price, and a lot to choose from on the menu. But we came here TWICE in one trip just for this gem – the deep fried key lime pie. Make this a must try on your vacation.
** Stout's Restaurant (Marathon) Cute, quaint breakfast joint. We stopped by here along our whereabouts in Marathon more than once in one trip. Great pancakes and biscuits and gravy for the price!
** Wooden Spoon (Marathon) Another hole in the wall breakfast joint. If you're solidly OK with fast and efficient – this is a good place to go. The menu offers so many cooked-to-order varieties for nearly under $4. Go early, it gets crowded in the mornings!
** Sweet Savannah's (Marathon) THE BEST desserts in the area – by far.
Butterfly Cafe (Marathon)
** Porky's Bayside (Marathon) Stopped by here with the pups for lunch after a day kayaking. The outdoor space is open and breezy for a perfect afternoon lunch or dinner by the water. Not sure who enjoyed themselves more – us, or the dogs. I got the Cuban, which was to DIE FOR.
** Sunset Grill and Live Bar (7 Mile Bridge) A fun place to come to hang out, relax, have a drink and grab a bite. It's right off of the 7-mile bridge, overlooking the water. The huge space and lively atmosphere makes you feel right where you are – in paradise.
Lower Keys/Key West
** No Name Pub (Big Pine Key) You have to go hear – no matter what reviews say. It's honestly NOT what people say. It is what it is – it's a very small, compact bar and grill COVERED in, yes, money. It's a sight to see, and you mainly need to come for the pizza and key lime pie. You won't regret it!
** La Trattoria Oceanside (Key West) If you're in the mood for Italian – splurge here. It's a little pricey, but I promise you won't be disappointed. The view overlooks the Atlantic Ocean as you sit in a fine dining experience. Get the Key Lime Pie martini – it's such a treat!
** Commodore Waterfront Restaurant (Key West) If you can imagine yourself eating dinner while staring into the abyss of yachts and sailboats, then this is your go-to place. Another pricey venue, but the food is entirely worth it. Amazing crab cakes and lobster tails here.
** Kermit's (Key West) There are no other words for here other than: chocolate covered key lime pie on a stick!
Two Friends Patio Restaurant (Key West)
** Clemente's Trolley Pizza (Key West/Duval) This is a staple for each trip my husband and I take to the Keys. We get Clemente's pizza EVERY time we go. If you like thick cut, crispy square pieces, DO NOT GET THE PIE. Order the slices! Get them to go, or enjoy a slice or two, or three while people watching along Duval with the chickens.
** Flying Monkey (Key West/Duval) Known for their frozen cocktails – it's one of those gems you can't miss. No, I'm not talking about Senior Frogs. Flying Monkey is the originator, and more low key – less tourists, less havoc. Win, win. Be sure to try the Banana!
Caroline's Cafe (Key West/Duval)
** Blue Heaven (Key West) Don't go anywhere else for breakfast in Key West! Nestled back in the trees you can enjoy a peaceful meal in the middle of a tropical Key West oasis. I get the shrimp and grits every single time. It never disappoints.
Hogfish Bar and Grill (Key West)
Charlie Mac's (Key West)
Hog's Breath Saloon (Key West)
---
Add these Florida Keys hot spots to your travel bucket list and share!