Turn old into new! I love these types of projects – because not only do you save some money, but for me it's always fun to turn things you already have into something completely different. And you can do just that with any old picture frame, or decor frame of the sort that you have just taking up space in your closet.
Plus, it's a perfect gift option! Your kids can easily do this, too. Whether it be decor for a baby's room, a birthday or Mother's Day gift, or decor for around the house.
I took an old Mediterranean style wall frame – from my love of the 'Italian kitchen theme' I had years back – and turned it into a beach seashell monogram. Not only are they real seashells I collected over the years (having tons of them in my craft closet) but I used real sand as the background. It's the perfect little piece for added beach wall decor in my coastal living theme.
Since having the nautical rope twine, sand and seashells on hand, there wasn't much else I needed to buy except spray paint. Let me show you how easy this is to do – as well as a list of all the products needed to complete your own DIY sand and seashell monogram beach wall decor for your living space.
*This post contains affiliate links. If you purchase through these links, I will receive a teeny weeny commission!*
---
DIY Sand And Seashell Monogram Beach Wall Decor
Materials for this DIY project:
An old frame/picture frame of your choice
White spray paint (unless the frame is already white!)
Sea Foam Sea Glass spray paint
1/2 inch thick Nautical Rope Twine (it's 50 feet of rope, but if you're a nautical/beach fan like me – you'll definitely find use for the leftovers!)
Seashells (you can buy these – no guarantee on the shapes/types and overall shipping quality, but you can also make a point to take that trip to the beach as an excuse!)
Hot glue gun/clear glue sticks (make sure you have enough of the sticks – I used about 4 for this project overall!)
---
1 | I started by hacking away at the back to remove the picture from the frame. I thought this was going to be easy, but this frame happened to be plain cheap and made poorly so I really had to tear this one apart. I couldn't even remove the glass, so I ended up creating my seashell monogram over the glass portion. Which I guess is the point anyway so that your seashells stand out from the frame.
2 | I sprayed the frame with the white spray paint (even the glass portion, too), allowing to dry for an hour. Then, using the Sea Foam spray paint, I coated the frame irregularly to get an iridescent effect with the color.
3 | Applying the sand to the front was tricky. I wanted to use a type of glue that would be able to be brushed on – which I didn't have – so I tried doing it with some leftover Polyurethane I kept in the garage. I simply brushed on a good thick layer, and with the sand in a cup immediately poured it on so that all areas were covered generously. I shuffled the frame to smooth over the sand over any bare spots, and let the excess fall off that didn't stick. Do this outside, as it's very messy! 
It was kind of a one and done thing, otherwise you couldn't reapply more of the polyurethane on top of what you have. So make sure you use a good thick layer of that beforehand, and pour on more sand even if it's not all going to stick.
Allow to dry overnight. Below is what it should turn out looking like – pretty awesome texture when it's dry!
Then I applied the nautical twine along the inside edges of the glass portion. I wanted to keep the frame visible since that just looked so nice with the sea foam color. Use a glue gun and clear glue sticks to do this – don't be afraid to use a lot of glue to make sure this quite heavy rope actually stays.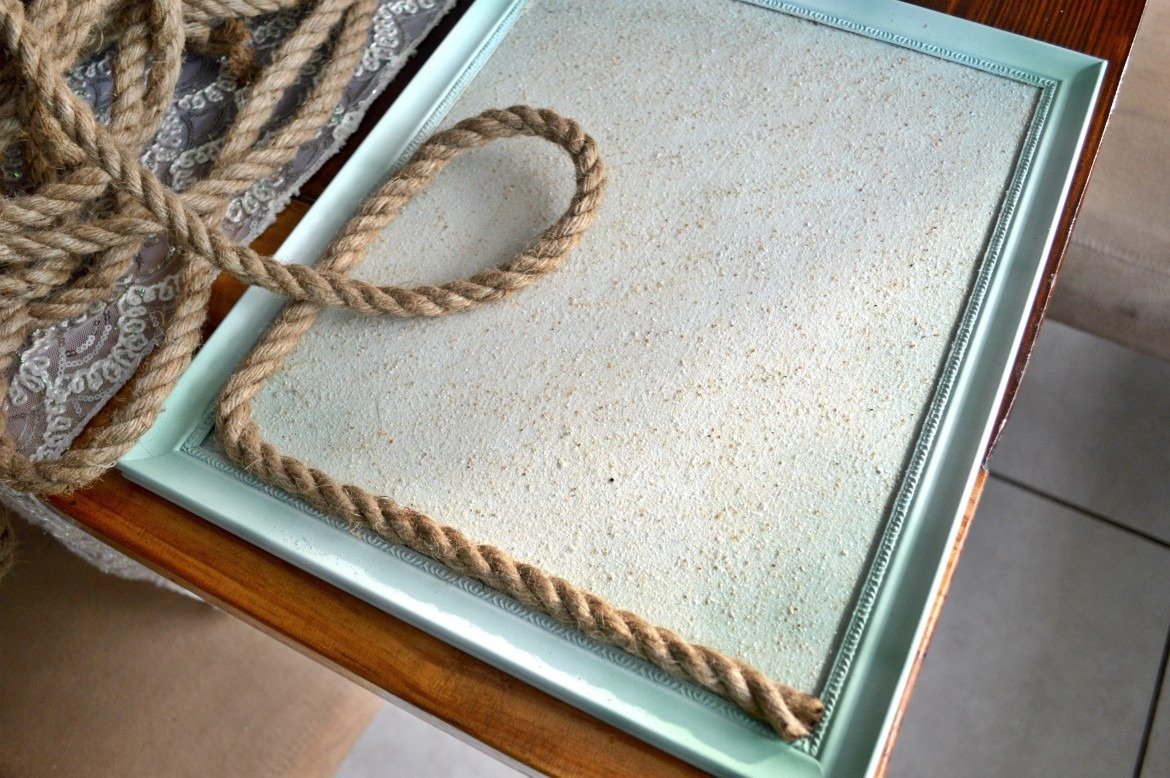 4 | I added a couple shells at the corner of the rope that was cut (to hide that). And then came time to lay out my shell monogram. Before gluing, I made several mock-ups of my letter to see what I liked better from the shells. Rather, I made sure to start with a base of some bigger shells first, and gluing the major points to my letter – which, for L, being the top, the bottom left corner and the bottom right corner. Do that first – helps keep your letter from going haywire!
Then you can layer in between the major points with different shaped and sized shells to create your ideal look. Pretty neat, huh? It's so easy to do – your kids could do this as a cute gift idea!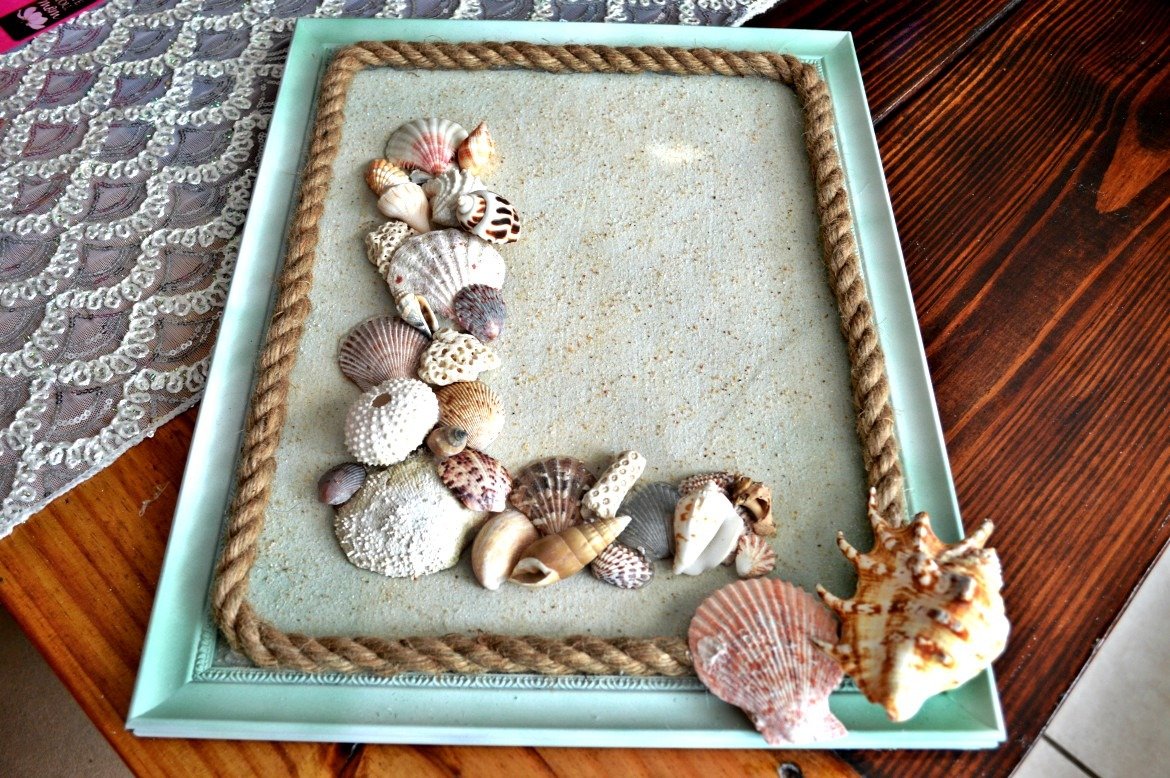 ---
Share, pin, tweet and pass it on!