Whether you're someone who has a type, believes in the "type", or you
think
your love life doesn't revolve around a specific type – who you attract, and the types of people you are attracted to may be set to
repeat
. And you may not even realize it.
Your type doesn't just have to do with physical attributes. It can be their work ethics, motivation, short term or long term goals in life, attitude, dating behavior and moral, personality traits and simple morals and values in life.
Do you tend to date those who can't keep a steady job under their belt? Can he barely maintain enough money in his bank account to pay the bills? Does he tend to have an off-putting and selfish attitude towards you and generally to others? Does has trouble maintaining friendships and external relationships with family? Maybe he has little interests or hobbies, or has no motivation for self improvement?
If there is a pattern in your dating scene, it might be time to reevaluate the types of guys your dating, and realizing that your "type" might simply be the wrong guy for you.
7 Signs Your Type Is The Wrong Guy For You – Period
Every relationship ends on bad terms
As far as what defines a "successful" ending to a relationship, if you can take from it more gains than loss, call it a lesson learned or if the parting of ways was completely mutual – then you're better off than most.
But most don't think of any end to a relationship as being "successful" to begin with. And if you're constantly battling anger, resentment or pain from your previous relationships – that isn't necessarily good traction for your future ones.
I'm talking about the cheater,  the narcissist, the pathological liar, the abuser, the manipulator, the baggage carrier, the serial dater, the lazy leeches, the double standard, the "victimizer", the buzzards, and the snakes that can slither into your life as quickly as they can slither out of it.
If you're left with a deep, scabby, crusted emotional, or physical wound after nearly every relationship – a clear change in more than just your type needs to be made. Read about more about my post on Why Women With Self Worth Have More Successful Relationships.
Well, you're still single and desperately looking
Maybe you're in and out of relationships – quickly – bing badda boom. Maybe you find your type, your prince charming, but it just never goes anywhere – or far enough to where you want it to. Maybe you're dating too many at once, or back to back. Maybe you have lost touch to the real meaning of dating, because you're too focused on simply finding someone to date. Maybe it's as the saying goes, "Same ole' shit, same 'type' of guy". Maybe you date someone and quickly find something that is a deal breaker, or less than you deserve.
Hey, you keep on keepin' on standards wise. But, if this is all essentially an overkill in your love life, you're guaranteed to run your motivation completely dry. Which, in turn, can cause you to lower your standards – and that's the last thing you need to do. 

Your dates never turn into actual relationships or long-term commitments
By relationships, I mean exclusivity – defining your status as a couple – as well as making one another's time, well being and happiness a priority. And by long-term, I mean hitting the yearly mark. Long enough to actually have made it through some milestones together.
If you're constantly dealing with the guy who flakes after Date #3, or finds every excuse in this world to "keep things easy and sleazy", identify their similar attributes, and steer clear of them from the beginning.
You never feel secure within the relationship
The constant worry of breaking up, being ghosted, competing against other women, or that he will lose interest isn't something you should be taking from the relationship. This could be caused by current behaviors in the relationship, or from previous failed relationships from similar results in your past.
Either way, there's no foundation for a healthy relationship if you're always left fearing the worst outcome, constantly needing validation or reassurance of his feelings, or entering the relationship with doubt.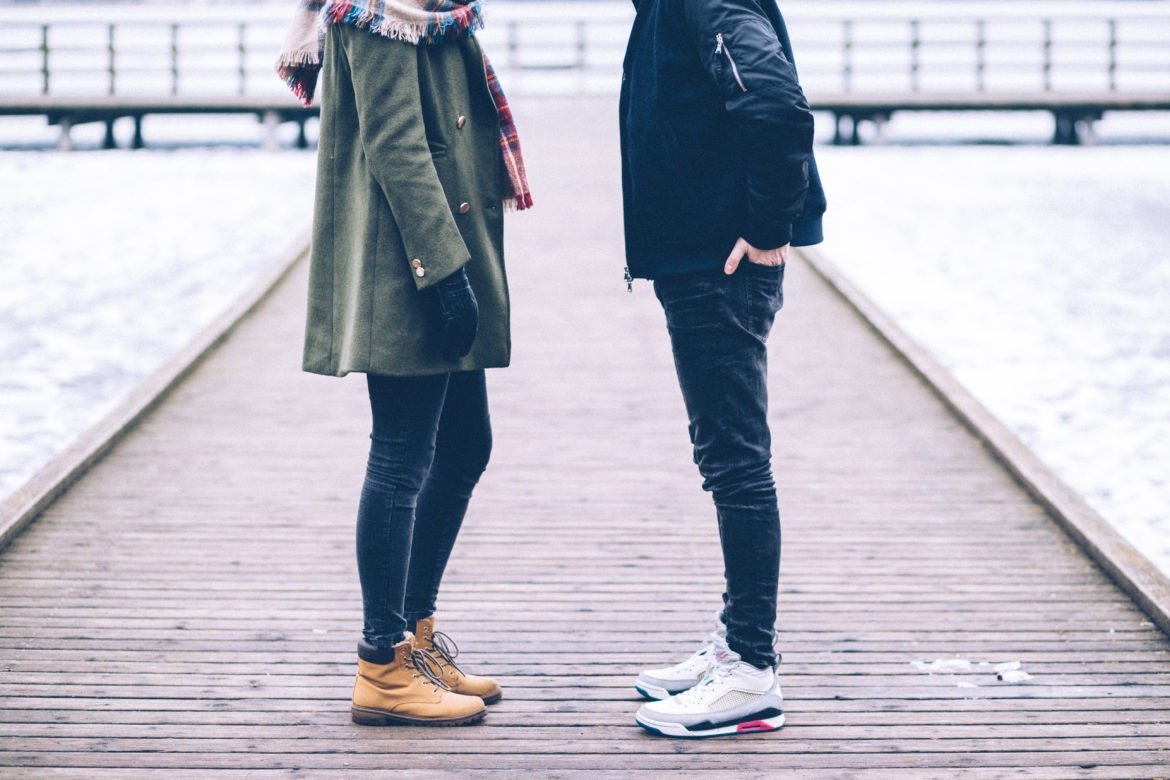 You're always left dissatisfied 
As backwards as this may sound – I see this one far too often. Those who have a blatant, distinct, concrete type – find it, just to then turn around X days/months later claiming "I wasted my time", "he wasn't this, or that", or "he wasn't who I thought he was". Yet, that's their type.
After enough dissatisfaction, it should be a clue to put on the brakes, and figure out what it is about your type that leaves you so frequently unhappy.
He doesn't bring out the best in you 
This shouldn't be difficult to understand, nor should it be something you ignore in the dating scene. Not that every day you need to wake up peachy and ready to take on anything that life throws at you.
This is something you hear frequently in happy couples: "He just makes me a better person – he inspires me to do so much more than what I think I'm capable of – he makes me want to be everything in this world for him!"
Otherwise, it can feel like there is something missing. And most of the time it has to do with what you are simply not getting out of the relationship – something out of your own control. It can be a change, or ups and downs, in your mood, maybe you're not as motivated or self confident as you once were, or the relationship just isn't making a strong, positive impact on your life like it should.
If this is the case, start questioning whether it's the right relationship for you.
Every nice guy you meet is labeled as "too nice to date"
Because every person with a type, has a compartment stashed away with all of the "unfit, nice guy types".
For anyone who has used the "nice guy" or "too nice to date" excuse, what you're basically implying is: you're the opposite of what I go for – I can't stretch my preferences that thin – and I just can't open myself that far out of my comfort zone. 
And if not that, then: You're not enough of a challenge for me (you're "boring", for lack of better words) – I like being emotionally tongue-tied. Dating you would just be taking the easy way out.
Ta-da! That is how we have derived "the type".
Granted, it has much to do with our initial "laws of attraction", if you believe that, but a lot of it has to do with our "comfort zone" and the picture society has painted for us in terms of how we should be looking for Love. From every romance movie, childhood or celebrity infatuation, first Love, and falsified impression as to what makes the perfect man in our eyes. And that "perfect man" quite possibly doesn't even exist, yet we can be as quick to write off someone with all but one of the attributes in our "type".
So if you find yourself repeatedly saying, or thinking, "He's too nice to date", what you're literally saying is, "Granted, he would probably give me the world (that's nice and all), but I'm used to getting hurt and I prefer to stick with what I already know and what I am familiar with" – it's time to start training your brain to understanding that it's the nice guys who you will be starving for when there are suddenly none left.