I spent literally under $25 to make this DIY nautical decor mirror for my bathroom, and besides already having the mirror to do this – this project was super easy while adding some movement to my expanding nautical bathroom theme. If you don't have a mirror to start with, there are great mirrors for this project that come in different sizes and are relatively inexpensive that you can find here.
Finding the twine rope was difficult, mainly because I was picky – so of course when I'm looking for something out of the usual I can never find the kind I want. I eventually found really good twine rope here.
DIY Nautical Mirror Decor
 You can do this with any sized mirror (any shape!)
    *This post contains affiliate links, in which if you use when buying products, it grants me a teeny-weeny share!*
---
All you need is:
50 feet Twine OR 100 feet Twine, 1/2 inch thick (This product has many different thicknesses of rope – 1/4, 3/8, 1/2 and 1 inch thickness)
Hot glue gun (You will definitely want to use this over other glue, because you need something that's going to dry FAST, and harden in order to hold onto this thick twine. Do NOT use super glue – tried that – it soaks into the twine and you'll end up in a bigger, stickier mess)
A bunch of the CLEAR glue sticks for the glue gun
---
Directions:
First of all, I made the mistake in assuming I had the clear glue sticks (which I did not), so in my pictures you see green sparkly glue! I had to work extra hard to make sure the glue was not visible on the mirror or between the twine.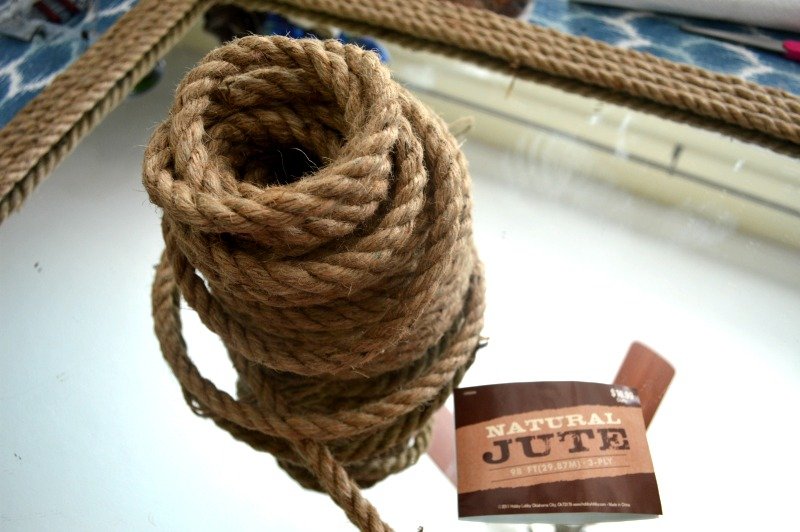 I went with the 1/2 inch thick 50 feet of twine for my 4×3 foot mirror. I measured first how many feet of twine I would need to wrap my mirror 4 times. So be sure to measure your mirror and determine how many times you want the mirror wrapped with the twine, because you might need 100 feet, which you can find here. It's a little more expensive, but not by much.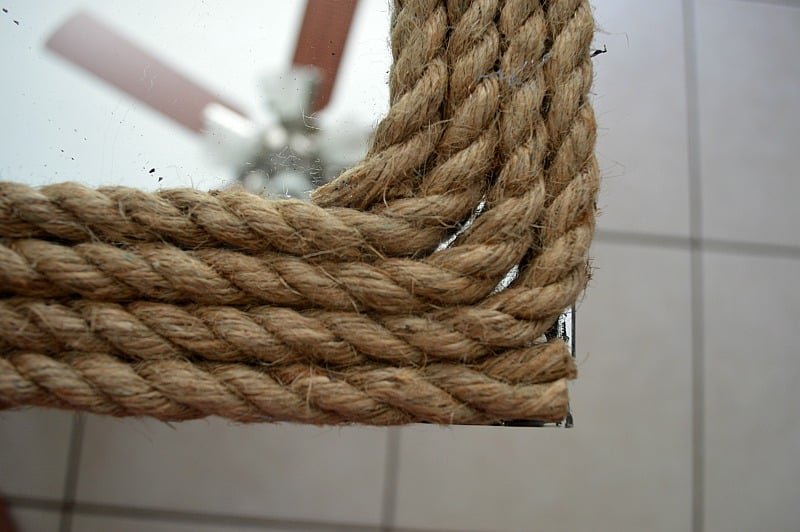 As shown above, start at one corner. The first loop around the mirror I had to cut at all the corners to cover the mirror completely (the twine just wasn't bending properly to cover the corners. And as you see above in starting the 2nd round of twine I was able to begin rounding at the corners instead of cutting the edges to meet.
In the same picture above, you will also see where I cut and stopped the twine in the same corner.
Otherwise, this was a very easy project – anyone can easily do!
---
Share, pin, tweet and pass it on!